Mediterranean Cruise Special Offers
Here at Cruise Paradise we provide an extensive range of discount cruise special offers for Mediterranean cruise holidays from Ireland.
Our selection of
Mediterranean cruise special offers
is updated all the time, so be sure to check back on a regular basis so you don't miss out on the discount cruise vacation in the Mediterranean that you've always dreamed about! Always wanted to cruise from port to port around the beautiful Italian coastline? Want to enjoy the warmth of the Greek Islands? Europe's best cruise holidays are right here. And if you can't find a cruise holiday deal to suit your needs, you can call and talk to Cruise Paradise's expert travel stuff who will happily find the best cruise holiday for you.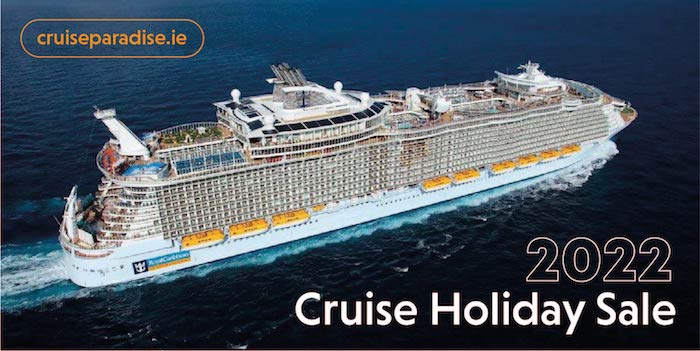 CRUISE PARADISE - 2022 CRUISE HOLIDAY SALE ON NOW
2022 Cruise Holiday Bookings Available
Be bold in 2022 and enjoy all the excitement of a cruise holliday to your favourite destinatation on board your favourite cruise line! Cruise Paradise is offering exclusive discounts and FREE upgrades across most major cruise line brands. Call now to take advantage of offers on upcoming Royal Carribean, MSC Cruises, Celebrity Cruises, Norwegian Cruises, and Cunard Cruises.
CALL 01 6523009 To Talk To A Specialist Cruise Travel Expert.
Newsletter Signup:
Signup To Receive Ireland's BEST Cruise Holiday Offers & Deals! Don't Miss Out...
---
Mediterranean from Barcelona

MSC Cruises: MSC Grandiosa

1st Jan 2022, 7 nts, departing: Cruise Only

Visiting: Barcelona - Marseille - Genoa, Italy - Rome (Civitavecchia) - Palermo - Malta (La Valletta) - Barcelona

01 6523009
Mediterranean: Barcelona & Naples to Rome

Norwegian Cruise Line: Norwegian Epic

17th Apr 2022, 3 nts, departing: Cruise Only

Visiting: Barcelona - Ajaccio - Naples - Rome (Civitavecchia)

01 6523009
Mediterranean from Civitavecchia

MSC Cruises: MSC Splendida

29th Apr 2022, 7 nts, departing: Cruise Only

Visiting: Rome (Civitavecchia) - Genoa, Italy - Marseille - Siracusa, Sicily - Taranto - Rome (Civitavecchia)

01 6523009
Western Mediterranean from Barcelona

Royal Caribbean International: Wonder of the Seas

8th May 2022, 7 nts, departing: Cruise Only

Visiting: Barcelona - Palma De Mallorca - Marseille - La Spezia - Rome (Civitavecchia) - Capri - Barcelona

01 6523009
Italy & Adriatic

Royal Caribbean International: Brilliance of the Seas

9th May 2022, 6 nts, departing: Cruise Only

Visiting: Rome (Civitavecchia) - Capri - Messina - Corfu - Kotor - Ravenna

01 6523009
Greece & Croatia

Royal Caribbean International: Brilliance of the Seas

15th May 2022, 7 nts, departing: Cruise Only

Visiting: Ravenna - Dubrovnik - Mykonos - Santorini - Split - Ravenna

01 6523009
Western Mediterranean from Barcelona

Royal Caribbean International: Wonder of the Seas

15th May 2022, 7 nts, departing: Cruise Only

Visiting: Barcelona - Palma De Mallorca - Marseille - La Spezia - Rome (Civitavecchia) - Capri - Barcelona

01 6523009
Western Mediterranean from Rome

Royal Caribbean International: Wonder of the Seas

19th May 2022, 7 nts, departing: Cruise Only

Visiting: Rome (Civitavecchia) - Naples - Barcelona - Palma De Mallorca - Marseille - La Spezia - Rome (Civitavecchia)

01 6523009
Mediterranean from Barcelona

MSC Cruises: MSC Meraviglia

21st May 2022, 7 nts, departing: Cruise Only

Visiting: Barcelona - Cannes - Genoa, Italy - La Spezia - Rome (Civitavecchia) - Palma De Mallorca - Barcelona

01 6523009
Greek Isles

Royal Caribbean International: Brilliance of the Seas

22nd May 2022, 7 nts, departing: Cruise Only

Visiting: Ravenna - Kotor - Corfu - Athens (Piraeus) - Mykonos - Argostoli - Ravenna

01 6523009
Western Mediterranean from Barcelona

Royal Caribbean International: Wonder of the Seas

22nd May 2022, 7 nts, departing: Cruise Only

Visiting: Barcelona - Palma De Mallorca - Marseille - La Spezia - Rome (Civitavecchia) - Capri - Barcelona

01 6523009
Greece & Croatia

Royal Caribbean International: Brilliance of the Seas

29th May 2022, 7 nts, departing: Cruise Only

Visiting: Ravenna - Dubrovnik - Mykonos - Santorini - Split - Ravenna

01 6523009
Western Mediterranean from Barcelona

Royal Caribbean International: Wonder of the Seas

29th May 2022, 7 nts, departing: Cruise Only

Visiting: Barcelona - Palma De Mallorca - Marseille - La Spezia - Rome (Civitavecchia) - Capri - Barcelona

01 6523009
Greek Isles

Royal Caribbean International: Brilliance of the Seas

5th Jun 2022, 7 nts, departing: Cruise Only

Visiting: Ravenna - Kotor - Corfu - Athens (Piraeus) - Mykonos - Argostoli - Ravenna

01 6523009
Western Mediterranean from Barcelona

Royal Caribbean International: Wonder of the Seas

5th Jun 2022, 7 nts, departing: Cruise Only

Visiting: Barcelona - Palma De Mallorca - Marseille - La Spezia - Rome (Civitavecchia) - Capri - Barcelona

01 6523009
Greece & Croatia

Royal Caribbean International: Brilliance of the Seas

12th Jun 2022, 7 nts, departing: Cruise Only

Visiting: Ravenna - Dubrovnik - Mykonos - Santorini - Split - Ravenna

01 6523009
Western Mediterranean from Barcelona

Royal Caribbean International: Wonder of the Seas

12th Jun 2022, 7 nts, departing: Cruise Only

Visiting: Barcelona - Palma De Mallorca - Marseille - La Spezia - Rome (Civitavecchia) - Capri - Barcelona

01 6523009
Western Mediterranean from Barcelona

Royal Caribbean International: Wonder of the Seas

19th Jun 2022, 7 nts, departing: Cruise Only

Visiting: Barcelona - Palma De Mallorca - Marseille - La Spezia - Rome (Civitavecchia) - Capri - Barcelona

01 6523009
Western Mediterranean from Barcelona

Royal Caribbean International: Wonder of the Seas

26th Jun 2022, 7 nts, departing: Cruise Only

Visiting: Barcelona - Palma De Mallorca - Marseille - La Spezia - Rome (Civitavecchia) - Capri - Barcelona

01 6523009
Greece & Croatia

Royal Caribbean International: Brilliance of the Seas

4th Sep 2022, 7 nts, departing: Cruise Only

Visiting: Ravenna - Dubrovnik - Mykonos - Santorini - Split - Ravenna

01 6523009
Greek Isles

Royal Caribbean International: Brilliance of the Seas

11th Sep 2022, 7 nts, departing: Cruise Only

Visiting: Ravenna - Kotor - Corfu - Athens (Piraeus) - Mykonos - Argostoli - Ravenna

01 6523009
Greece & Croatia

Royal Caribbean International: Brilliance of the Seas

18th Sep 2022, 7 nts, departing: Cruise Only

Visiting: Ravenna - Dubrovnik - Mykonos - Santorini - Split - Ravenna

01 6523009
Greek Isles

Royal Caribbean International: Brilliance of the Seas

25th Sep 2022, 7 nts, departing: Cruise Only

Visiting: Ravenna - Kotor - Corfu - Athens (Piraeus) - Mykonos - Argostoli - Ravenna

01 6523009
Greece & Croatia

Royal Caribbean International: Brilliance of the Seas

2nd Oct 2022, 7 nts, departing: Cruise Only

Visiting: Ravenna - Dubrovnik - Mykonos - Santorini - Split - Ravenna

01 6523009
Greek Isles

Royal Caribbean International: Brilliance of the Seas

9th Oct 2022, 7 nts, departing: Cruise Only

Visiting: Ravenna - Kotor - Corfu - Athens (Piraeus) - Mykonos - Argostoli - Ravenna

01 6523009
Greece & Croatia

Royal Caribbean International: Brilliance of the Seas

16th Oct 2022, 7 nts, departing: Cruise Only

Visiting: Ravenna - Dubrovnik - Mykonos - Santorini - Split - Ravenna

01 6523009
Greek Isles

Royal Caribbean International: Brilliance of the Seas

23rd Oct 2022, 7 nts, departing: Cruise Only

Visiting: Ravenna - Kotor - Corfu - Athens (Piraeus) - Mykonos - Argostoli - Ravenna

01 6523009
Western Mediterranean

Royal Caribbean International: Wonder of the Seas

27th Oct 2022, 3 nts, departing: Cruise Only

Visiting: Rome (Civitavecchia) - Naples - Barcelona

01 6523009