Royal Caribbean Cruise Offers From Cruise Paradise
Great Value Cruise Holidays With Royal Caribbean
Cruise Paradise offers exclusive deals, and extras such as upgraded cabins, and direct flights to departure ports with many of our exclusive Royal Caribbean cruise holiday packages. Let us help you book and enjoy the best holiday in the sun with Royal Caribbean.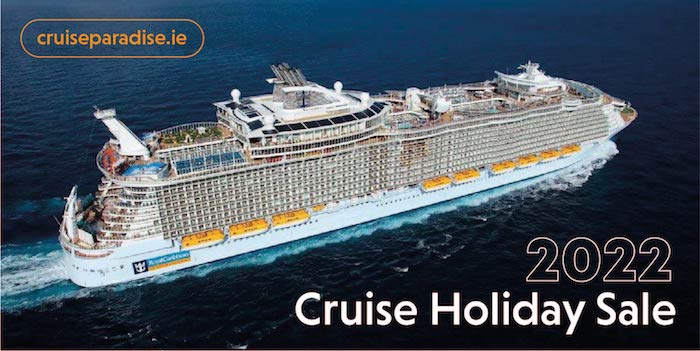 CRUISE PARADISE - 2022 CRUISE HOLIDAY SALE ON NOW
2022 Cruise Holiday Bookings Available
Be bold in 2022 and enjoy all the excitement of a cruise holliday to your favourite destinatation on board your favourite cruise line! Cruise Paradise is offering exclusive discounts and FREE upgrades across most major cruise line brands. Call now to take advantage of offers on upcoming Royal Carribean, MSC Cruises, Celebrity Cruises, Norwegian Cruises, and Cunard Cruises.
CALL 01 6523009 To Talk To A Specialist Cruise Travel Expert.
Newsletter Signup:
Signup To Receive Ireland's BEST Cruise Holiday Offers & Deals! Don't Miss Out...
---
Southern Caribbean Island Hop

Royal Caribbean International: Grandeur of the Seas

6th Feb 2022, 7 nts, departing: Cruise Only

Visiting: Bridgetown - Port of Spain,Trinidad - Castries - Scarborough, Trinidad - Roseau - Kingstown, Saint Vincent and the Grenadines - St Georges, Grenada - Bridgetown

01 6523009
Western Mediterranean

Royal Caribbean International: Wonder of the Seas

27th Oct 2022, 3 nts, departing: Cruise Only

Visiting: Rome (Civitavecchia) - Naples - Barcelona

01 6523009
Scandinavia & Russia

Royal Caribbean International: Voyager of the Seas

15th May 2022, 7 nts, departing: Cruise Only

Visiting: Copenhagen, Denmark - Stockholm, Sweden - Tallinn, Estonia - St Petersburg, Russia - Helsinki, Finland - Copenhagen, Denmark

01 6523009
Scandinavia & Russia

Royal Caribbean International: Voyager of the Seas

22nd May 2022, 7 nts, departing: Cruise Only

Visiting: Copenhagen, Denmark - Stockholm, Sweden - Tallinn, Estonia - St Petersburg, Russia - Helsinki, Finland - Copenhagen, Denmark

01 6523009
Scandinavia & Russia

Royal Caribbean International: Voyager of the Seas

1st May 2022, 7 nts, departing: Cruise Only

Visiting: Copenhagen, Denmark - Stockholm, Sweden - Tallinn, Estonia - St Petersburg, Russia - Helsinki, Finland - Copenhagen, Denmark

01 6523009
Scandinavia & Russia

Royal Caribbean International: Voyager of the Seas

8th May 2022, 7 nts, departing: Cruise Only

Visiting: Copenhagen, Denmark - Stockholm, Sweden - Tallinn, Estonia - St Petersburg, Russia - Helsinki, Finland - Copenhagen, Denmark

01 6523009
Italy & Adriatic

Royal Caribbean International: Brilliance of the Seas

9th May 2022, 6 nts, departing: Cruise Only

Visiting: Rome (Civitavecchia) - Capri - Messina - Corfu - Kotor - Ravenna

01 6523009
Greece & Croatia

Royal Caribbean International: Brilliance of the Seas

16th Oct 2022, 7 nts, departing: Cruise Only

Visiting: Ravenna - Dubrovnik - Mykonos - Santorini - Split - Ravenna

01 6523009
Greece & Croatia

Royal Caribbean International: Brilliance of the Seas

2nd Oct 2022, 7 nts, departing: Cruise Only

Visiting: Ravenna - Dubrovnik - Mykonos - Santorini - Split - Ravenna

01 6523009
Greece & Croatia

Royal Caribbean International: Brilliance of the Seas

18th Sep 2022, 7 nts, departing: Cruise Only

Visiting: Ravenna - Dubrovnik - Mykonos - Santorini - Split - Ravenna

01 6523009
Greek Isles

Royal Caribbean International: Brilliance of the Seas

11th Sep 2022, 7 nts, departing: Cruise Only

Visiting: Ravenna - Kotor - Corfu - Athens (Piraeus) - Mykonos - Argostoli - Ravenna

01 6523009
Greek Isles

Royal Caribbean International: Brilliance of the Seas

25th Sep 2022, 7 nts, departing: Cruise Only

Visiting: Ravenna - Kotor - Corfu - Athens (Piraeus) - Mykonos - Argostoli - Ravenna

01 6523009
Greek Isles

Royal Caribbean International: Brilliance of the Seas

9th Oct 2022, 7 nts, departing: Cruise Only

Visiting: Ravenna - Kotor - Corfu - Athens (Piraeus) - Mykonos - Argostoli - Ravenna

01 6523009
Greek Isles

Royal Caribbean International: Brilliance of the Seas

23rd Oct 2022, 7 nts, departing: Cruise Only

Visiting: Ravenna - Kotor - Corfu - Athens (Piraeus) - Mykonos - Argostoli - Ravenna

01 6523009
Greek Isles

Royal Caribbean International: Brilliance of the Seas

5th Jun 2022, 7 nts, departing: Cruise Only

Visiting: Ravenna - Kotor - Corfu - Athens (Piraeus) - Mykonos - Argostoli - Ravenna

01 6523009
Greek Isles

Royal Caribbean International: Brilliance of the Seas

22nd May 2022, 7 nts, departing: Cruise Only

Visiting: Ravenna - Kotor - Corfu - Athens (Piraeus) - Mykonos - Argostoli - Ravenna

01 6523009
Greece & Croatia

Royal Caribbean International: Brilliance of the Seas

12th Jun 2022, 7 nts, departing: Cruise Only

Visiting: Ravenna - Dubrovnik - Mykonos - Santorini - Split - Ravenna

01 6523009
Greece & Croatia

Royal Caribbean International: Brilliance of the Seas

29th May 2022, 7 nts, departing: Cruise Only

Visiting: Ravenna - Dubrovnik - Mykonos - Santorini - Split - Ravenna

01 6523009
Greece & Croatia

Royal Caribbean International: Brilliance of the Seas

4th Sep 2022, 7 nts, departing: Cruise Only

Visiting: Ravenna - Dubrovnik - Mykonos - Santorini - Split - Ravenna

01 6523009
Greece & Croatia

Royal Caribbean International: Brilliance of the Seas

15th May 2022, 7 nts, departing: Cruise Only

Visiting: Ravenna - Dubrovnik - Mykonos - Santorini - Split - Ravenna

01 6523009
Western Mediterranean from Barcelona

Royal Caribbean International: Wonder of the Seas

8th May 2022, 7 nts, departing: Cruise Only

Visiting: Barcelona - Palma De Mallorca - Marseille - La Spezia - Rome (Civitavecchia) - Capri - Barcelona

01 6523009
Western Mediterranean from Barcelona

Royal Caribbean International: Wonder of the Seas

15th May 2022, 7 nts, departing: Cruise Only

Visiting: Barcelona - Palma De Mallorca - Marseille - La Spezia - Rome (Civitavecchia) - Capri - Barcelona

01 6523009
Western Mediterranean from Barcelona

Royal Caribbean International: Wonder of the Seas

22nd May 2022, 7 nts, departing: Cruise Only

Visiting: Barcelona - Palma De Mallorca - Marseille - La Spezia - Rome (Civitavecchia) - Capri - Barcelona

01 6523009
Western Mediterranean from Rome

Royal Caribbean International: Wonder of the Seas

19th May 2022, 7 nts, departing: Cruise Only

Visiting: Rome (Civitavecchia) - Naples - Barcelona - Palma De Mallorca - Marseille - La Spezia - Rome (Civitavecchia)

01 6523009
Western Mediterranean from Barcelona

Royal Caribbean International: Wonder of the Seas

29th May 2022, 7 nts, departing: Cruise Only

Visiting: Barcelona - Palma De Mallorca - Marseille - La Spezia - Rome (Civitavecchia) - Capri - Barcelona

01 6523009
Western Mediterranean from Barcelona

Royal Caribbean International: Wonder of the Seas

5th Jun 2022, 7 nts, departing: Cruise Only

Visiting: Barcelona - Palma De Mallorca - Marseille - La Spezia - Rome (Civitavecchia) - Capri - Barcelona

01 6523009
Western Mediterranean from Barcelona

Royal Caribbean International: Wonder of the Seas

19th Jun 2022, 7 nts, departing: Cruise Only

Visiting: Barcelona - Palma De Mallorca - Marseille - La Spezia - Rome (Civitavecchia) - Capri - Barcelona

01 6523009
Western Mediterranean from Barcelona

Royal Caribbean International: Wonder of the Seas

12th Jun 2022, 7 nts, departing: Cruise Only

Visiting: Barcelona - Palma De Mallorca - Marseille - La Spezia - Rome (Civitavecchia) - Capri - Barcelona

01 6523009
Ultimate Caribbean

Royal Caribbean International: Grandeur of the Seas

9th Jan 2022, 14 nts, departing: Cruise Only

Visiting: Bridgetown - Kingstown, Saint Vincent and the Grenadines - St Georges, Grenada - Willemstad, Curacao - Kralendijk,Bonaire - Cartagena, Colombia - Colon, Panama - Puerto Limon - Oranjestad, Aruba - Scarborough, Trinidad - Port of Spain,Trinidad - Bridgetown

01 6523009
Western Mediterranean from Barcelona

Royal Caribbean International: Wonder of the Seas

26th Jun 2022, 7 nts, departing: Cruise Only

Visiting: Barcelona - Palma De Mallorca - Marseille - La Spezia - Rome (Civitavecchia) - Capri - Barcelona

01 6523009
---