Cruise Holiday Offers For 2020 And 2021
The holiday season is in full swing, and we have some amazing cruise holiday offers for 2020 and 2021. Travel to jaw dropping destinations that imprint unforgettable memories in your mind and heart. You can book these amazing cruise holidays now. All the information is at your fingertips so make sure to keep tabs on the latest news on Cruise Holidays in 2020 and 2021. We offer incredible Fly and Cruise deals so if you are cruising from Barcelona, Rome, or any other destination, we are sure to offer the best flight deals from Ireland to get you started on your dream cruise. Browse through the latest Cruise Holiday deals below and read on to find out about the new ships that will steal the spotlight and major announcements in 2020-2021. We've got it all covered for you.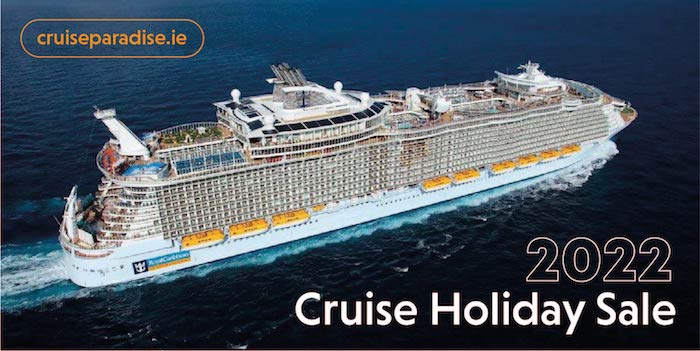 CRUISE PARADISE - 2022 CRUISE HOLIDAY SALE ON NOW
2022 Cruise Holiday Bookings Available
Be bold in 2022 and enjoy all the excitement of a cruise holliday to your favourite destinatation on board your favourite cruise line! Cruise Paradise is offering exclusive discounts and FREE upgrades across most major cruise line brands. Call now to take advantage of offers on upcoming Royal Carribean, MSC Cruises, Celebrity Cruises, Norwegian Cruises, and Cunard Cruises.
CALL 01 6523009 To Talk To A Specialist Cruise Travel Expert.
Newsletter Signup:
Signup To Receive Ireland's BEST Cruise Holiday Offers & Deals! Don't Miss Out...
---
Mediterranean from Barcelona

MSC Cruises: MSC Grandiosa

1st Jan 2022, 7 nts, departing: Cruise Only

Visiting: Barcelona - Marseille - Genoa, Italy - Rome (Civitavecchia) - Palermo - Malta (La Valletta) - Barcelona

01 6523009
Ultimate Caribbean

Royal Caribbean International: Grandeur of the Seas

9th Jan 2022, 14 nts, departing: Cruise Only

Visiting: Bridgetown - Kingstown, Saint Vincent and the Grenadines - St Georges, Grenada - Willemstad, Curacao - Kralendijk,Bonaire - Cartagena, Colombia - Colon, Panama - Puerto Limon - Oranjestad, Aruba - Scarborough, Trinidad - Port of Spain,Trinidad - Bridgetown

01 6523009
Southern Caribbean Island Hop

Royal Caribbean International: Grandeur of the Seas

6th Feb 2022, 7 nts, departing: Cruise Only

Visiting: Bridgetown - Port of Spain,Trinidad - Castries - Scarborough, Trinidad - Roseau - Kingstown, Saint Vincent and the Grenadines - St Georges, Grenada - Bridgetown

01 6523009
Mediterranean: Barcelona & Naples to Rome

Norwegian Cruise Line: Norwegian Epic

17th Apr 2022, 3 nts, departing: Cruise Only

Visiting: Barcelona - Ajaccio - Naples - Rome (Civitavecchia)

01 6523009
Mediterranean from Civitavecchia

MSC Cruises: MSC Splendida

29th Apr 2022, 7 nts, departing: Cruise Only

Visiting: Rome (Civitavecchia) - Genoa, Italy - Marseille - Siracusa, Sicily - Taranto - Rome (Civitavecchia)

01 6523009
Scandinavia & Russia

Royal Caribbean International: Voyager of the Seas

1st May 2022, 7 nts, departing: Cruise Only

Visiting: Copenhagen, Denmark - Stockholm, Sweden - Tallinn, Estonia - St Petersburg, Russia - Helsinki, Finland - Copenhagen, Denmark

01 6523009
Alaska Dawes Glacier

Celebrity Cruises: Celebrity Solstice

6th May 2022, 7 nts, departing: Cruise Only

Visiting: Seattle - Ketchikan - Juneau - Skagway - Inside Passage, Alaska - Victoria, British Colombia - Seattle

01 6523009
Scandinavia & Russia

Royal Caribbean International: Voyager of the Seas

8th May 2022, 7 nts, departing: Cruise Only

Visiting: Copenhagen, Denmark - Stockholm, Sweden - Tallinn, Estonia - St Petersburg, Russia - Helsinki, Finland - Copenhagen, Denmark

01 6523009
Italy & Adriatic

Royal Caribbean International: Brilliance of the Seas

9th May 2022, 6 nts, departing: Cruise Only

Visiting: Rome (Civitavecchia) - Capri - Messina - Corfu - Kotor - Ravenna

01 6523009
Alaska Dawes Glacier

Celebrity Cruises: Celebrity Solstice

13th May 2022, 7 nts, departing: Cruise Only

Visiting: Seattle - Ketchikan - Juneau - Skagway - Inside Passage, Alaska - Victoria, British Colombia - Seattle

01 6523009
Greece & Croatia

Royal Caribbean International: Brilliance of the Seas

15th May 2022, 7 nts, departing: Cruise Only

Visiting: Ravenna - Dubrovnik - Mykonos - Santorini - Split - Ravenna

01 6523009
Scandinavia & Russia

Royal Caribbean International: Voyager of the Seas

15th May 2022, 7 nts, departing: Cruise Only

Visiting: Copenhagen, Denmark - Stockholm, Sweden - Tallinn, Estonia - St Petersburg, Russia - Helsinki, Finland - Copenhagen, Denmark

01 6523009
Alaska Dawes Glacier

Celebrity Cruises: Celebrity Solstice

20th May 2022, 7 nts, departing: Cruise Only

Visiting: Seattle - Ketchikan - Juneau - Skagway - Inside Passage, Alaska - Victoria, British Colombia - Seattle

01 6523009
Mediterranean from Barcelona

MSC Cruises: MSC Meraviglia

21st May 2022, 7 nts, departing: Cruise Only

Visiting: Barcelona - Cannes - Genoa, Italy - La Spezia - Rome (Civitavecchia) - Palma De Mallorca - Barcelona

01 6523009
Greek Isles

Royal Caribbean International: Brilliance of the Seas

22nd May 2022, 7 nts, departing: Cruise Only

Visiting: Ravenna - Kotor - Corfu - Athens (Piraeus) - Mykonos - Argostoli - Ravenna

01 6523009
Scandinavia & Russia

Royal Caribbean International: Voyager of the Seas

22nd May 2022, 7 nts, departing: Cruise Only

Visiting: Copenhagen, Denmark - Stockholm, Sweden - Tallinn, Estonia - St Petersburg, Russia - Helsinki, Finland - Copenhagen, Denmark

01 6523009
Alaska Dawes Glacier

Celebrity Cruises: Celebrity Solstice

27th May 2022, 7 nts, departing: Cruise Only

Visiting: Seattle - Ketchikan - Juneau - Skagway - Inside Passage, Alaska - Victoria, British Colombia - Seattle

01 6523009
Greece & Croatia

Royal Caribbean International: Brilliance of the Seas

29th May 2022, 7 nts, departing: Cruise Only

Visiting: Ravenna - Dubrovnik - Mykonos - Santorini - Split - Ravenna

01 6523009
Greek Isles

Royal Caribbean International: Brilliance of the Seas

5th Jun 2022, 7 nts, departing: Cruise Only

Visiting: Ravenna - Kotor - Corfu - Athens (Piraeus) - Mykonos - Argostoli - Ravenna

01 6523009
Greece & Croatia

Royal Caribbean International: Brilliance of the Seas

12th Jun 2022, 7 nts, departing: Cruise Only

Visiting: Ravenna - Dubrovnik - Mykonos - Santorini - Split - Ravenna

01 6523009
Greece & Croatia

Royal Caribbean International: Brilliance of the Seas

4th Sep 2022, 7 nts, departing: Cruise Only

Visiting: Ravenna - Dubrovnik - Mykonos - Santorini - Split - Ravenna

01 6523009
Greek Isles

Royal Caribbean International: Brilliance of the Seas

11th Sep 2022, 7 nts, departing: Cruise Only

Visiting: Ravenna - Kotor - Corfu - Athens (Piraeus) - Mykonos - Argostoli - Ravenna

01 6523009
Greece & Croatia

Royal Caribbean International: Brilliance of the Seas

18th Sep 2022, 7 nts, departing: Cruise Only

Visiting: Ravenna - Dubrovnik - Mykonos - Santorini - Split - Ravenna

01 6523009
Greek Isles

Royal Caribbean International: Brilliance of the Seas

25th Sep 2022, 7 nts, departing: Cruise Only

Visiting: Ravenna - Kotor - Corfu - Athens (Piraeus) - Mykonos - Argostoli - Ravenna

01 6523009
Greece & Croatia

Royal Caribbean International: Brilliance of the Seas

2nd Oct 2022, 7 nts, departing: Cruise Only

Visiting: Ravenna - Dubrovnik - Mykonos - Santorini - Split - Ravenna

01 6523009
Greek Isles

Royal Caribbean International: Brilliance of the Seas

9th Oct 2022, 7 nts, departing: Cruise Only

Visiting: Ravenna - Kotor - Corfu - Athens (Piraeus) - Mykonos - Argostoli - Ravenna

01 6523009
Greece & Croatia

Royal Caribbean International: Brilliance of the Seas

16th Oct 2022, 7 nts, departing: Cruise Only

Visiting: Ravenna - Dubrovnik - Mykonos - Santorini - Split - Ravenna

01 6523009
Greek Isles

Royal Caribbean International: Brilliance of the Seas

23rd Oct 2022, 7 nts, departing: Cruise Only

Visiting: Ravenna - Kotor - Corfu - Athens (Piraeus) - Mykonos - Argostoli - Ravenna

01 6523009
Western Mediterranean

Royal Caribbean International: Wonder of the Seas

27th Oct 2022, 3 nts, departing: Cruise Only

Visiting: Rome (Civitavecchia) - Naples - Barcelona

01 6523009