Mediterranean Cruise Special Offers
Here at Cruise Paradise we provide an extensive range of discount cruise special offers for Mediterranean cruise holidays from Ireland.
Our selection of
Mediterranean cruise special offers
is updated all the time, so be sure to check back on a regular basis so you don't miss out on the discount cruise vacation in the Mediterranean that you've always dreamed about! Always wanted to cruise from port to port around the beautiful Italian coastline? Want to enjoy the warmth of the Greek Islands? Europe's best cruise holidays are right here. And if you can't find a cruise holiday deal to suit your needs, you can call and talk to Cruise Paradise's expert travel stuff who will happily find the best cruise holiday for you.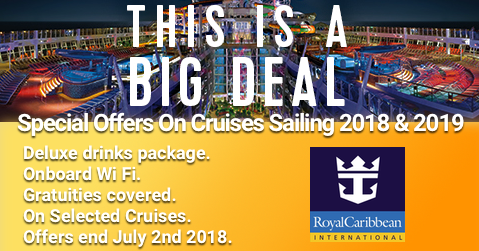 ROYAL CARIBBEAN SALE
All the best upgrades included on Cruises sailing 2018 and 2019.
Don't miss out on fantastic extras such as:
- Deluxe drinks package.
- Onboard Wi Fi.
- Gratuities covered.
Offer ends July 2nd 2018.
Don't miss out on this fantastic offer
View cruise destinations here, or call: 01 6523009 now to book and save.
---
Italy, Croatia, Greece

MSC Cruises: MSC Sinfonia

1st Sep 2018, 7 nts, departing: Cruise Only

Visiting: Venice - Split - Santorini Island - Mykonos - Dubrovnik - Ancora - Venice

01 6523009
Western Mediterranean

Royal Caribbean International: Symphony of the Seas

2nd Sep 2018, 7 nts, departing: Cruise Only

Visiting: Barcelona - Palma De Mallorca - Marseille - La Spezia - Rome (Civitavecchia) - Capri - Barcelona

01 6523009
Western Mediterranean

Royal Caribbean International: Symphony of the Seas

6th Sep 2018, 7 nts, departing: Cruise Only

Visiting: Rome (Civitavecchia) - Capri - Barcelona - Palma De Mallorca - Marseille - La Spezia - Rome (Civitavecchia)

01 6523009
Italy, Croatia, Greece

MSC Cruises: MSC Sinfonia

8th Sep 2018, 7 nts, departing: Cruise Only

Visiting: Venice - Split - Santorini Island - Mykonos - Dubrovnik - Ancora - Venice

01 6523009
Western Mediterranean

Royal Caribbean International: Symphony of the Seas

9th Sep 2018, 7 nts, departing: Cruise Only

Visiting: Barcelona - Palma De Mallorca - Marseille - La Spezia - Rome (Civitavecchia) - Capri - Barcelona

01 6523009
Western Mediterranean

Royal Caribbean International: Symphony of the Seas

13th Sep 2018, 7 nts, departing: Cruise Only

Visiting: Rome (Civitavecchia) - Capri - Barcelona - Palma De Mallorca - Marseille - La Spezia - Rome (Civitavecchia)

01 6523009
Italy, Croatia, Greece

MSC Cruises: MSC Sinfonia

15th Sep 2018, 7 nts, departing: Cruise Only

Visiting: Venice - Split - Santorini Island - Mykonos - Dubrovnik - Ancora - Venice

01 6523009
Western Mediterranean

Royal Caribbean International: Symphony of the Seas

16th Sep 2018, 7 nts, departing: Cruise Only

Visiting: Barcelona - Palma De Mallorca - Marseille - La Spezia - Rome (Civitavecchia) - Capri - Barcelona

01 6523009
Western Mediterranean

Royal Caribbean International: Symphony of the Seas

20th Sep 2018, 7 nts, departing: Cruise Only

Visiting: Rome (Civitavecchia) - Capri - Barcelona - Palma De Mallorca - Marseille - La Spezia - Rome (Civitavecchia)

01 6523009
Western Mediterranean

Royal Caribbean International: Symphony of the Seas

23rd Sep 2018, 7 nts, departing: Cruise Only

Visiting: Barcelona - Palma De Mallorca - Marseille - La Spezia - Rome (Civitavecchia) - Capri - Barcelona

01 6523009
Western Mediterranean

Royal Caribbean International: Symphony of the Seas

27th Sep 2018, 7 nts, departing: Cruise Only

Visiting: Rome (Civitavecchia) - Capri - Barcelona - Palma De Mallorca - Marseille - La Spezia - Rome (Civitavecchia)

01 6523009
Western Mediterranean

Royal Caribbean International: Symphony of the Seas

30th Sep 2018, 7 nts, departing: Cruise Only

Visiting: Barcelona - Palma De Mallorca - Marseille - La Spezia - Rome (Civitavecchia) - Capri - Barcelona

01 6523009
Western Mediterranean

Royal Caribbean International: Symphony of the Seas

4th Oct 2018, 7 nts, departing: Cruise Only

Visiting: Rome (Civitavecchia) - Capri - Barcelona - Palma De Mallorca - Marseille - La Spezia - Rome (Civitavecchia)

01 6523009
Western Mediterranean

Royal Caribbean International: Symphony of the Seas

7th Oct 2018, 7 nts, departing: Cruise Only

Visiting: Barcelona - Palma De Mallorca - Marseille - La Spezia - Rome (Civitavecchia) - Capri - Barcelona

01 6523009
Western Mediterranean

Royal Caribbean International: Symphony of the Seas

11th Oct 2018, 7 nts, departing: Cruise Only

Visiting: Rome (Civitavecchia) - Capri - Barcelona - Palma De Mallorca - Marseille - La Spezia - Rome (Civitavecchia)

01 6523009
Short Western Mediterranean Cruise

Royal Caribbean International: Symphony of the Seas

11th Oct 2018, 3 nts, departing: Cruise Only

Visiting: Rome (Civitavecchia) - Capri - Barcelona

01 6523009
Western Mediterranean

Royal Caribbean International: Symphony of the Seas

14th Oct 2018, 9 nts, departing: Cruise Only

Visiting: Barcelona - Palma De Mallorca - Marseille - La Spezia - Rome (Civitavecchia) - Capri - Valencia - Barcelona

01 6523009
Greek Isles Cruise

Royal Caribbean International: Rhapsody of the Seas

3rd Nov 2018, 7 nts, departing: Cruise Only

Visiting: Venice - Kotor - Corfu - Athens (Piraeus) - Mykonos - Argostoli - Venice

01 6523009
Greek Isles Cruise

Royal Caribbean International: Rhapsody of the Seas

17th Nov 2018, 7 nts, departing: Cruise Only

Visiting: Venice - Kotor - Corfu - Athens (Piraeus) - Mykonos - Argostoli - Venice

01 6523009
United Arab Emirates, Oman

MSC Cruises: MSC Splendida

22nd Dec 2018, 7 nts, departing: Cruise Only

Visiting: Dubai - Abu Dhabi - Sir Bani Yas Island (UAE) - Khor al Fakkan, UAE - Dubai

01 6523009
United Arab Emirates, Bahrain, Qatar

MSC Cruises: MSC Splendida

29th Dec 2018, 7 nts, departing: Cruise Only

Visiting: Dubai - Abu Dhabi - Sir Bani Yas Island (UAE) - Bahrain - Doha - Dubai

01 6523009
United Arab Emirates, Oman

MSC Cruises: MSC Splendida

5th Jan 2019, 7 nts, departing: Cruise Only

Visiting: Dubai - Abu Dhabi - Sir Bani Yas Island (UAE) - Khor al Fakkan, UAE - Dubai

01 6523009
United Arab Emirates, Oman

MSC Cruises: MSC Splendida

12th Jan 2019, 7 nts, departing: Cruise Only

Visiting: Dubai - Abu Dhabi - Sir Bani Yas Island (UAE) - Khor al Fakkan, UAE - Dubai

01 6523009