Last Minute Discount Cruise Holidays - 2018 Online Specials
CruiseParadise.ie is Ireland's leading specialist in Caribbean and Mediterranean cruise holidays. For singles, couples, and families - Simply no one rivals our last minute special offers. Based in Kilkenny and acting as part of the Marble City Travel Group, we offer our many happy Irish customers the biggest selection of top quality late cruise holiday special offers. For an unbeatable low price on your dream holiday vacation, you've come to the right place. Browse late 2018 special offers below:
---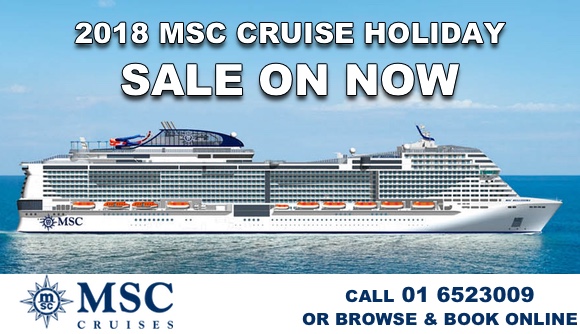 MSC CRUISE HOLIDAYS ON SALE
The Best Mediterranean and Caribbean Cruise Holidays are MSC Cruise Holidays! Take advantage of great savings across all MSC Cruises setting sale in 2018. Browse now, and don't miss out!
View online cruise holiday offers here, or call: 01 6523009 to book.
---
USA, Jamaica, Cayman Islands, Mexico, Bahamas

MSC Cruises: MSC Seaside

24th Mar 2018, 7 nts, departing: Cruise Only

Visiting: Miami - Ocho Rios - George Town, Cayman Islands - Cozumel - Nassau - Miami

01 6523009
Barcelona to Barcelona

Royal Caribbean International: Symphony of the Seas

31st Mar 2018, 5 nts, departing: Cruise Only

Visiting: Barcelona - Capri - Rome (Civitavecchia) - Barcelona

01 6523009
United States, Bahamas, Puerto Rico, St. Maarten

MSC Cruises: MSC Seaside

31st Mar 2018, 7 nts, departing: Cruise Only

Visiting: Miami - Nassau - San Juan - Philipsburg, St Maarten - Miami

01 6523009
Western Mediterranean

Royal Caribbean International: Symphony of the Seas

7th Apr 2018, 7 nts, departing: Cruise Only

Visiting: Barcelona - Palma De Mallorca - Marseille - La Spezia - Rome (Civitavecchia) - Capri - Barcelona

01 6523009
United States, Jamaica, Cayman Islands, Mexico

MSC Cruises: MSC Seaside

7th Apr 2018, 7 nts, departing: Cruise Only

Visiting: Miami - Ocho Rios - George Town, Cayman Islands - Cozumel - Costa Maya - Miami

01 6523009
Western Mediterranean

Royal Caribbean International: Symphony of the Seas

14th Apr 2018, 7 nts, departing: Cruise Only

Visiting: Barcelona - Palma De Mallorca - Marseille - La Spezia - Rome (Civitavecchia) - Capri - Barcelona

01 6523009
United States, St. Maarten, Puerto

MSC Cruises: MSC Seaside

14th Apr 2018, 7 nts, departing: Cruise Only

Visiting: Miami - Philipsburg, St Maarten - San Juan - Nassau - Miami

01 6523009
Western Mediterranean

Royal Caribbean International: Symphony of the Seas

21st Apr 2018, 7 nts, departing: Cruise Only

Visiting: Barcelona - Palma De Mallorca - Marseille - La Spezia - Rome (Civitavecchia) - Capri - Barcelona

01 6523009
Greek Isles Cruise

Royal Caribbean International: Rhapsody of the Seas

3rd Nov 2018, 7 nts, departing: Cruise Only

Visiting: Venice - Kotor - Corfu - Athens (Piraeus) - Mykonos - Argostoli - Venice

01 6523009
Greek Isles Cruise

Royal Caribbean International: Rhapsody of the Seas

17th Nov 2018, 7 nts, departing: Cruise Only

Visiting: Venice - Kotor - Corfu - Athens (Piraeus) - Mykonos - Argostoli - Venice

01 6523009
United Arab Emirates, Bahrain, Qatar

MSC Cruises: MSC Splendida

8th Dec 2018, 7 nts, departing: Cruise Only

Visiting: Dubai - Abu Dhabi - Sir Bani Yas Island (UAE) - Bahrain - Doha - Dubai

01 6523009
United Arab Emirates, Oman

MSC Cruises: MSC Splendida

22nd Dec 2018, 7 nts, departing: Cruise Only

Visiting: Dubai - Abu Dhabi - Sir Bani Yas Island (UAE) - Khor al Fakkan, UAE - Dubai

01 6523009
United Arab Emirates, Bahrain, Qatar

MSC Cruises: MSC Splendida

29th Dec 2018, 7 nts, departing: Cruise Only

Visiting: Dubai - Abu Dhabi - Sir Bani Yas Island (UAE) - Bahrain - Doha - Dubai

01 6523009
United Arab Emirates, Oman

MSC Cruises: MSC Splendida

5th Jan 2019, 7 nts, departing: Cruise Only

Visiting: Dubai - Abu Dhabi - Sir Bani Yas Island (UAE) - Khor al Fakkan, UAE - Dubai

01 6523009
United Arab Emirates, Oman

MSC Cruises: MSC Splendida

12th Jan 2019, 7 nts, departing: Cruise Only

Visiting: Dubai - Abu Dhabi - Sir Bani Yas Island (UAE) - Khor al Fakkan, UAE - Dubai

01 6523009
Guadeloupe, St. Lucia, Barbados, Trinidad

MSC Cruises: MSC Fantasia

28th Jan 2018, 7 nts, departing: Cruise Only

Visiting: Point-a-Pitre - St John's, Antigua - Kingstown - La Romana - St. Kitts - Fort de France - Point-a-Pitre

01 6523009
Abu Dhabi, United Arab Emirates

MSC Cruises: MSC Splendida

28th Jan 2018, 7 nts, departing: Cruise Only

Visiting: Abu Dhabi - Sir Bani Yas Island (UAE) - Muscat - Khasab - Dubai - Abu Dhabi

01 6523009
Southern Caribbean

Royal Caribbean International: Anthem of the Seas

28th Jan 2018, 12 nts, departing: Cruise Only

Visiting: Cape Liberty, New Jersey - San Juan - Philipsburg, St Maarten - St John's, Antigua - Castries - Bridgetown - Basseterre - Cape Liberty, New Jersey

01 6523009
Canary Islands, Spain & Morocco from Málaga

Norwegian Cruise Line: Norwegian Spirit

1st Feb 2018, 10 nts, departing: Cruise Only

Visiting: Granada - Alicante - Barcelona - Casablanca - Las Palmas,Gran Canaria - Santa Cruz de Tenerife - Funchal - Granada

01 6523009
Canary Islands & Morocco from Barcelona

Norwegian Cruise Line: Norwegian Spirit

3rd Feb 2018, 10 nts, departing: Cruise Only

Visiting: Barcelona - Casablanca - Santa Cruz de Tenerife - Las Palmas,Gran Canaria - Funchal - Malaga - Alicante - Barcelona

01 6523009
Canary Islands, Spain & Morocco from Málaga

Norwegian Cruise Line: Norwegian Spirit

11th Feb 2018, 10 nts, departing: Cruise Only

Visiting: Granada - Alicante - Barcelona - Casablanca - Las Palmas,Gran Canaria - Santa Cruz de Tenerife - Funchal - Granada

01 6523009
Canary Islands & Morocco from Barcelona

Norwegian Cruise Line: Norwegian Spirit

13th Feb 2018, 10 nts, departing: Cruise Only

Visiting: Barcelona - Casablanca - Santa Cruz de Tenerife - Las Palmas,Gran Canaria - Funchal - Malaga - Alicante - Barcelona

01 6523009
Canary Islands & Morocco from Barcelona

Norwegian Cruise Line: Norwegian Spirit

23rd Feb 2018, 10 nts, departing: Cruise Only

Visiting: Barcelona - Casablanca - Santa Cruz de Tenerife - Las Palmas,Gran Canaria - Funchal - Malaga - Alicante - Barcelona

01 6523009
Canary Islands & Morocco from Barcelona

Norwegian Cruise Line: Norwegian Spirit

5th Mar 2018, 10 nts, departing: Cruise Only

Visiting: Barcelona - Casablanca - Santa Cruz de Tenerife - Las Palmas,Gran Canaria - Funchal - Malaga - Alicante - Barcelona

01 6523009
Canary Islands & Morocco from Barcelona

Norwegian Cruise Line: Norwegian Spirit

15th Mar 2018, 10 nts, departing: Cruise Only

Visiting: Barcelona - Casablanca - Santa Cruz de Tenerife - Las Palmas,Gran Canaria - Funchal - Malaga - Alicante - Barcelona

01 6523009
USA, Jamaica, Cayman Islands, Mexico, Bahamas

MSC Cruises: MSC Seaside

24th Mar 2018, 7 nts, departing: Cruise Only

Visiting: Miami - Ocho Rios - George Town, Cayman Islands - Cozumel - Nassau - Miami

01 6523009
United States, Bahamas, Puerto Rico, St. Maarten

MSC Cruises: MSC Seaside

31st Mar 2018, 7 nts, departing: Cruise Only

Visiting: Miami - Nassau - San Juan - Philipsburg, St Maarten - Miami

01 6523009
United States, Jamaica, Cayman Islands, Mexico

MSC Cruises: MSC Seaside

7th Apr 2018, 7 nts, departing: Cruise Only

Visiting: Miami - Ocho Rios - George Town, Cayman Islands - Cozumel - Costa Maya - Miami

01 6523009
United States, St. Maarten, Puerto

MSC Cruises: MSC Seaside

14th Apr 2018, 7 nts, departing: Cruise Only

Visiting: Miami - Philipsburg, St Maarten - San Juan - Nassau - Miami

01 6523009