Last Minute Discount Cruise Holidays - 2017 Online Specials
CruiseParadise.ie is Ireland's leading specialist in Caribbean and Mediterranean cruise holidays. For singles, couples, and families - Simply no one rivals our last minute special offers. Based in Kilkenny and acting as part of the Marble City Travel Group, we offer our many happy Irish customers the biggest selection of top quality late cruise holiday special offers. For an unbeatable low price on your dream holiday vacation, you've come to the right place. Browse late 2017 special offers below:
---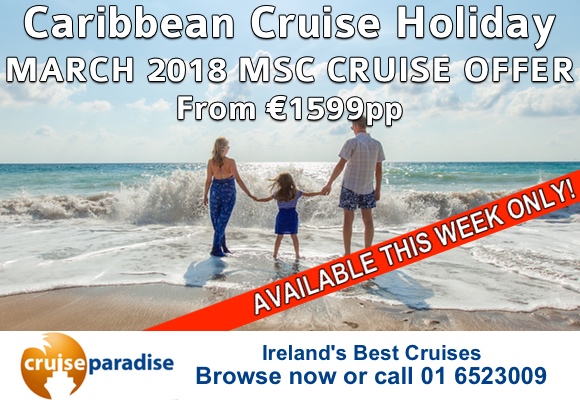 MSC SEASIDE - MIAMI SUPER SALE!
For a limited time only, get unbeatable value on Fly and Cruise holiday deals with extra time in Miami! Browse our exclusive special offers below and call 01 6523009 to book. Be quick, cruise holiday deals like these simply will not last long!
| Cruise Date | Cruise Itinerary | Nights | Flights + Extras | From |
| --- | --- | --- | --- | --- |
| 06/01/18 | MSC Seaside - Miami, Philipsburg, San Juan, Nassau,Miami, | 9 | Direct Aerlingus Flights with 20kg Bag and all transfers. Extra time in Miami as well as exclusive all inclusive upgrade offers. Call now 01 6523009 | €2,029 |
| 13/01/18 | MSC Seaside - Miami, Ocho Rios, Georgetown, Cozumel, Nassau, Miami | 9 | Direct Aerlingus Flights with 20kg Bag and all transfers. Extra time in Miami as well as exclusive all inclusive upgrade offers. Call now 01 6523010 | €1,929 |
| 20/01/18 | MSC Seaside - Miami, Philipsburg, San Juan, Nassau,Miami | 9 | Direct Aerlingus Flights with 20kg Bag and all transfers. Extra time in Miami as well as exclusive all inclusive upgrade offers. Call now 01 6523011 | €1,879 |
| 27/01/18 | MSC Seaside - Miami, Ocho Rios, Georgetown, Cozumel, Costa Maya, Miami | 9 | Direct Aerlingus Flights with 20kg Bag and all transfers. Extra time in Miami as well as exclusive all inclusive upgrade offers. Call now 01 6523012 | €1,929 |
| 03/02/18 | MSC Seaside - Miami, Philipsburg, San Juan, Nassau, Miami | 9 | Direct Aerlingus Flights with 20kg Bag and all transfers. Extra time in Miami as well as exclusive all inclusive upgrade offers. Call now 01 6523013 | €2,029 |
| 10/02/18 | MSC Seaside - Miami, Ocho Rios, Georgetown, Cozumel, Nassau, Miami | 9 | Direct Aerlingus Flights with 20kg Bag and all transfers. Extra time in Miami as well as exclusive all inclusive upgrade offers. Call now 01 6523014 | €1,829 |
| 17/02/18 | MSC Seaside - Miami,Philipsburg, San Juan, Freeport, Miami | 9 | Direct Aerlingus Flights with 20kg Bag and all transfers. Extra time in Miami as well as exclusive all inclusive upgrade offers. Call now 01 6523015 | €2,029 |
| 24/02/18 | MSC Seaside - Miami, Ocho Rios, Georgetown, Cozumel, Nassau, Miami | 9 | Direct Aerlingus Flights with 20kg Bag and all transfers. Extra time in Miami as well as exclusive all inclusive upgrade offers. Call now 01 6523016 | €1,929 |
| 03/03/18 | MSC Seaside - Miami, Nassau, San Juan, Philipsburg, Miami | 9 | Direct Aerlingus Flights with 20kg Bag and all transfers. Extra time in Miami as well as exclusive all inclusive upgrade offers. Call now 01 6523017 | €2,029 |
| 10/03/18 | MSC Seaside - Miami, Ocho Rios, Georgetown, Cozumel, Costa Maya, Miami | 9 | Direct Aerlingus Flights with 20kg Bag and all transfers. Extra time in Miami as well as exclusive all inclusive upgrade offers. Call now 01 6523018 | €2,079 |
| 17/03/18 | MSC Seaside - Miami,Nassau,San Jua, Philipsburg, Miami | 9 | Direct Aerlingus Flights with 20kg Bag and all transfers. Extra time in Miami as well as exclusive all inclusive upgrade offers. Call now 01 6523019 | €1,879 |
| 24/03/18 | MSC Seaside - Miami, Ocho Rios, Georgetown, Cozumel, Nassau, Miami | 9 | Direct Aerlingus Flights with 20kg Bag and all transfers. Extra time in Miami as well as exclusive all inclusive upgrade offers. Call now 01 6523020 | €2,029 |
---
Spain, France, Italy

MSC Cruises: MSC Orchestra

2nd Aug 2017, 7 nts, departing: Cruise Only

Visiting: Barcelona - Ajaccio - Rome (Civitavecchia) - La Spezia - Genoa - Cannes - Palma De Mallorca - Barcelona

0818 333 901