Royal Caribbean Cruise Offers From Cruise Paradise
Great Value Cruise Holidays With Royal Caribbean
Cruise Paradise offers exclusive deals, and extras such as upgraded cabins, and direct flights to departure ports with many of our exclusive Royal Caribbean cruise holiday packages. Let us help you book and enjoy the best holiday in the sun with Royal Caribbean.
---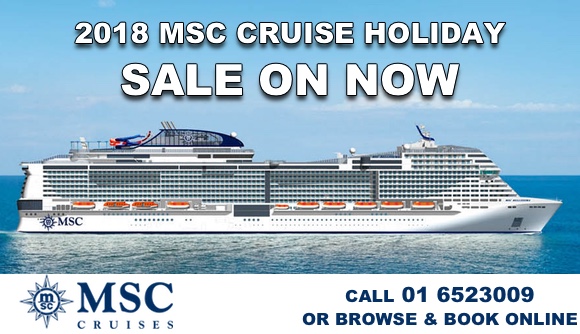 ROYAL CAIRBBEAN SALE
25% OFF STATE ROOM BOOKINGS
BEFORE DECEMBER 18TH
Royal Caribbean is offering a fantastic deal on cruises booked before December 18th 2017. Get 25% OFF your State Room Booking, and sail in 2018. Call now to speak to our expert staff and to take advantage of great cruise holiday savings. Call: 01 6523009 to book.
Greek Isles Cruise

Royal Caribbean International: Rhapsody of the Seas

17th Nov 2018, 7 nts, departing: Cruise Only

Visiting: Venice - Kotor - Corfu - Athens (Piraeus) - Mykonos - Argostoli - Venice

0818 333 901
Greek Isles Cruise

Royal Caribbean International: Rhapsody of the Seas

3rd Nov 2018, 7 nts, departing: Cruise Only

Visiting: Venice - Kotor - Corfu - Athens (Piraeus) - Mykonos - Argostoli - Venice

0818 333 901
Barcelona to Barcelona

Royal Caribbean International: Symphony of the Seas

31st Mar 2018, 5 nts, departing: Cruise Only

Visiting: Barcelona - Capri - Rome (Civitavecchia) - Barcelona

0818 333 901
Western Mediterranean

Royal Caribbean International: Symphony of the Seas

7th Apr 2018, 7 nts, departing: Cruise Only

Visiting: Barcelona - Palma De Mallorca - Marseille - La Spezia - Rome (Civitavecchia) - Capri - Barcelona

0818 333 901
Western Mediterranean

Royal Caribbean International: Symphony of the Seas

14th Apr 2018, 7 nts, departing: Cruise Only

Visiting: Barcelona - Palma De Mallorca - Marseille - La Spezia - Rome (Civitavecchia) - Capri - Barcelona

0818 333 901
Western Mediterranean

Royal Caribbean International: Symphony of the Seas

21st Apr 2018, 7 nts, departing: Cruise Only

Visiting: Barcelona - Palma De Mallorca - Marseille - La Spezia - Rome (Civitavecchia) - Capri - Barcelona

0818 333 901
Western Mediterranean

Royal Caribbean International: Symphony of the Seas

28th Apr 2018, 8 nts, departing: Cruise Only

Visiting: Barcelona - Palma De Mallorca - Marseille - La Spezia - Rome (Civitavecchia) - Capri - Barcelona

0818 333 901
Western Mediterranean

Royal Caribbean International: Symphony of the Seas

6th May 2018, 7 nts, departing: Cruise Only

Visiting: Barcelona - Palma De Mallorca - Marseille - La Spezia - Rome (Civitavecchia) - Capri - Barcelona

0818 333 901
Western Mediterranean

Royal Caribbean International: Symphony of the Seas

13th May 2018, 7 nts, departing: Cruise Only

Visiting: Barcelona - Palma De Mallorca - Marseille - La Spezia - Rome (Civitavecchia) - Capri - Barcelona

0818 333 901
Southern Caribbean

Royal Caribbean International: Anthem of the Seas

28th Jan 2018, 12 nts, departing: Cruise Only

Visiting: Cape Liberty, New Jersey - San Juan - Philipsburg, St Maarten - St John's, Antigua - Castries - Bridgetown - Basseterre - Cape Liberty, New Jersey

0818 333 901
Western Mediterranean

Royal Caribbean International: Symphony of the Seas

20th May 2018, 7 nts, departing: Cruise Only

Visiting: Barcelona - Palma De Mallorca - Marseille - La Spezia - Rome (Civitavecchia) - Capri - Barcelona

0818 333 901
Southern Caribbean

Royal Caribbean International: Adventure of the Seas

23rd Dec 2017, 7 nts, departing: Cruise Only

Visiting: San Juan - Charlotte Amalie - Basseterre - Willemstad, Curacao - Oranjestad, Aruba - San Juan

0818 333 901
Southern Caribbean

Royal Caribbean International: Anthem of the Seas

7th Jan 2018, 12 nts, departing: Cruise Only

Visiting: Cape Liberty, New Jersey - San Juan - Philipsburg, St Maarten - St John's, Antigua - Castries - Bridgetown - Basseterre - Cape Liberty, New Jersey

0818 333 901
---