Royal Caribbean Cruise Offers From Cruise Paradise
Great Value Cruise Holidays With Royal Caribbean
Cruise Paradise offers exclusive deals, and extras such as upgraded cabins, and direct flights to departure ports with many of our exclusive Royal Caribbean cruise holiday packages. Let us help you book and enjoy the best holiday in the sun with Royal Caribbean.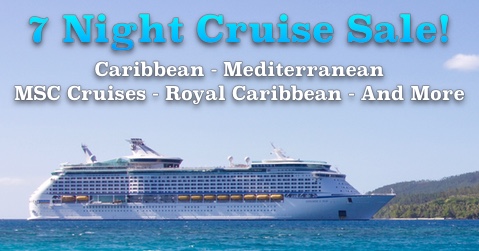 7-NIGHT CRUISE SALE
All the best deals and exclusive upgrades on 7-night cruises sailing in 2019.
Don't miss out on fantastic extras such as:
- Drinks packages.
- Free Onboard Wi Fi.
- Cabin upgrades and more.
- Talk to Cruise Paradise now about the best deal for you. Call: 01 6523009 now to book and save.
Browse 7-night cruise holiday offers, or view cruise destinations here,
---
Greek Isles Cruise

Royal Caribbean International: Rhapsody of the Seas

3rd Nov 2018, 7 nts, departing: Cruise Only

Visiting: Venice - Kotor - Corfu - Athens (Piraeus) - Mykonos - Argostoli - Venice

01 6523009
Western Mediterranean

Royal Caribbean International: Symphony of the Seas

27th Sep 2018, 7 nts, departing: Cruise Only

Visiting: Rome (Civitavecchia) - Capri - Barcelona - Palma De Mallorca - Marseille - La Spezia - Rome (Civitavecchia)

01 6523009
Western Mediterranean

Royal Caribbean International: Symphony of the Seas

7th Oct 2018, 7 nts, departing: Cruise Only

Visiting: Barcelona - Palma De Mallorca - Marseille - La Spezia - Rome (Civitavecchia) - Capri - Barcelona

01 6523009
Western Mediterranean

Royal Caribbean International: Symphony of the Seas

11th Oct 2018, 7 nts, departing: Cruise Only

Visiting: Rome (Civitavecchia) - Capri - Barcelona - Palma De Mallorca - Marseille - La Spezia - Rome (Civitavecchia)

01 6523009
Short Western Mediterranean Cruise

Royal Caribbean International: Symphony of the Seas

11th Oct 2018, 3 nts, departing: Cruise Only

Visiting: Rome (Civitavecchia) - Capri - Barcelona

01 6523009
Eastern Caribbean

Royal Caribbean International: Oasis of the Seas

28th Oct 2018, 7 nts, departing: Cruise Only

Visiting: Port Canaveral - Nassau - Charlotte Amalie - Philipsburg, St Maarten - Port Canaveral

01 6523009
Western Caribbean

Royal Caribbean International: Oasis of the Seas

21st Oct 2018, 7 nts, departing: Cruise Only

Visiting: Port Canaveral - Labadee - Falmouth,Jamaica - Cozumel - Port Canaveral

01 6523009
Eastern Caribbean

Royal Caribbean International: Oasis of the Seas

7th Oct 2018, 7 nts, departing: Cruise Only

Visiting: Port Canaveral - Philipsburg, St Maarten - San Juan, Puerto Rico - Labadee - Port Canaveral

01 6523009
Western Caribbean

Royal Caribbean International: Oasis of the Seas

25th Nov 2018, 7 nts, departing: Cruise Only

Visiting: Port Canaveral - Labadee - Falmouth,Jamaica - Cozumel - Port Canaveral

01 6523009
Western Caribbean

Royal Caribbean International: Oasis of the Seas

30th Sep 2018, 7 nts, departing: Cruise Only

Visiting: Port Canaveral - Labadee - Falmouth,Jamaica - Cozumel - Port Canaveral

01 6523009
Eastern Caribbean

Royal Caribbean International: Oasis of the Seas

14th Oct 2018, 7 nts, departing: Cruise Only

Visiting: Port Canaveral - Nassau - Charlotte Amalie - Philipsburg, St Maarten - Port Canaveral

01 6523009
Eastern Caribbean

Royal Caribbean International: Oasis of the Seas

4th Nov 2018, 7 nts, departing: Cruise Only

Visiting: Port Canaveral - Nassau - Charlotte Amalie - Philipsburg, St Maarten - Port Canaveral

01 6523009
Western Caribbean

Royal Caribbean International: Oasis of the Seas

11th Nov 2018, 7 nts, departing: Cruise Only

Visiting: Port Canaveral - Labadee - Falmouth,Jamaica - Cozumel - Port Canaveral

01 6523009
Eastern Caribbean

Royal Caribbean International: Oasis of the Seas

18th Nov 2018, 7 nts, departing: Cruise Only

Visiting: Port Canaveral - Nassau - Charlotte Amalie - Philipsburg, St Maarten - Port Canaveral

01 6523009
Greek Isles Cruise

Royal Caribbean International: Rhapsody of the Seas

17th Nov 2018, 7 nts, departing: Cruise Only

Visiting: Venice - Kotor - Corfu - Athens (Piraeus) - Mykonos - Argostoli - Venice

01 6523009
Western Mediterranean

Royal Caribbean International: Oasis of the Seas

2nd Jun 2019, 7 nts, departing: Cruise Only

Visiting: Barcelona - Palma De Mallorca - Marseille - La Spezia - Rome (Civitavecchia) - Capri - Barcelona

01 6523009
Western Mediterranean

Royal Caribbean International: Symphony of the Seas

30th Sep 2018, 7 nts, departing: Cruise Only

Visiting: Barcelona - Palma De Mallorca - Marseille - La Spezia - Rome (Civitavecchia) - Capri - Barcelona

01 6523009
Western Mediterranean

Royal Caribbean International: Symphony of the Seas

4th Oct 2018, 7 nts, departing: Cruise Only

Visiting: Rome (Civitavecchia) - Capri - Barcelona - Palma De Mallorca - Marseille - La Spezia - Rome (Civitavecchia)

01 6523009
Western Mediterranean

Royal Caribbean International: Symphony of the Seas

14th Oct 2018, 9 nts, departing: Cruise Only

Visiting: Barcelona - Palma De Mallorca - Marseille - La Spezia - Rome (Civitavecchia) - Capri - Valencia - Barcelona

01 6523009
---