Norwegian Cruise Line Holidays
The Norwegians Do It Better.
Norwegian Cruise Lines (NCL) have a fantastic reputation for quality cruise holidays, and include some of world's best cruise destinations - not just Europe and Scandinavia! Cruise Paradise offers exclusive NCL cruises for our Irish customers, and many offers include free cabin upgrades as well as direct flights from Dublin to departure ports around Europe. To arrange your dream cruise holiday and get the very best deal - please call our helpful staff on 0818 333 901 today.
The Norwegian Star will be in and around Asia and Australia until March 2017 when the ship will then offer Adriatic, Greece and Turkey itineraries out of Venice from Mid-2017
The Norwgian Jade will be busy for the 2017 summer season offering week long Western Europe and Norwegian cruise holiday desintations.
For Caribbean Cruise holidays in 2017, NCL's Norwegian Escape, will continue to offer week long Eastern Caribbean holidays.
Norwegian Cruise Lines also travels to the Caribbean from New York with two popular cruise ships, the Norwegian Breakaway, and the Norwegian Gem.
Norwegian Cruise Lines offer the cruise holiday industry's best ALL INCLUSIVE PREMIUM offers, and Cruise Paradise has exclusivity over many offers for Irish Customers.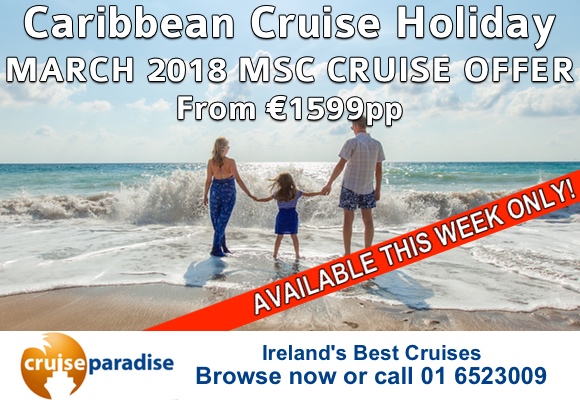 FLASH SALE PRICES ON MSC CRUISE HOLIDAYS + DIRECT FLIGHTS FROM IRELAND. LIMITED AVAILABILITY. EXCELLENT VALUE FOR MONEY.
CALL TO BOOK TODAY - OR RISK MISSING OUT!
---
Canary Islands & Morocco from Barcelona

Norwegian Cruise Line: Norwegian Spirit

13th Feb 2018, 10 nts, departing: Cruise Only

Visiting: Barcelona - Casablanca - Santa Cruz de Tenerife - Las Palmas,Gran Canaria - Funchal - Malaga - Alicante - Barcelona

01 6523009
Canary Islands & Morocco from Barcelona

Norwegian Cruise Line: Norwegian Spirit

23rd Feb 2018, 10 nts, departing: Cruise Only

Visiting: Barcelona - Casablanca - Santa Cruz de Tenerife - Las Palmas,Gran Canaria - Funchal - Malaga - Alicante - Barcelona

01 6523009
Canary Islands & Morocco from Barcelona

Norwegian Cruise Line: Norwegian Spirit

5th Mar 2018, 10 nts, departing: Cruise Only

Visiting: Barcelona - Casablanca - Santa Cruz de Tenerife - Las Palmas,Gran Canaria - Funchal - Malaga - Alicante - Barcelona

01 6523009
Canary Islands & Morocco from Barcelona

Norwegian Cruise Line: Norwegian Spirit

15th Mar 2018, 10 nts, departing: Cruise Only

Visiting: Barcelona - Casablanca - Santa Cruz de Tenerife - Las Palmas,Gran Canaria - Funchal - Malaga - Alicante - Barcelona

01 6523009
Canary Islands & Morocco from Barcelona

Norwegian Cruise Line: Norwegian Spirit

25th Mar 2018, 10 nts, departing: Cruise Only

Visiting: Barcelona - Casablanca - Santa Cruz de Tenerife - Las Palmas,Gran Canaria - Funchal - Malaga - Alicante - Barcelona

01 6523009
Canary Islands & Morocco from Barcelona

Norwegian Cruise Line: Norwegian Spirit

3rd Feb 2018, 10 nts, departing: Cruise Only

Visiting: Barcelona - Casablanca - Santa Cruz de Tenerife - Las Palmas,Gran Canaria - Funchal - Malaga - Alicante - Barcelona

01 6523009
Mediterranean from Barcelona

Norwegian Cruise Line: Norwegian Spirit

4th Apr 2018, 11 nts, departing: Cruise Only

Visiting: Barcelona - Majorca, Spain - Valencia - Cartagena, Spain - Granada - Gibraltar - Cagliari - Malta (La Valletta) - Messina - Naples - Rome (Civitavecchia)

01 6523009
Canary Islands, Spain & Morocco from Málaga

Norwegian Cruise Line: Norwegian Spirit

1st Feb 2018, 10 nts, departing: Cruise Only

Visiting: Granada - Alicante - Barcelona - Casablanca - Las Palmas,Gran Canaria - Santa Cruz de Tenerife - Funchal - Granada

01 6523009
Mediterranean & Adriatic from Rome (Civitavecchia

Norwegian Cruise Line: Norwegian Spirit

15th Apr 2018, 11 nts, departing: Cruise Only

Visiting: Rome (Civitavecchia) - Dubrovnik - Venice - Koper - Split - Corfu - Katakolon - Malta (La Valletta) - Rome (Civitavecchia)

01 6523009
Mediterranean & Adriatic from Rome (Civitavecchia

Norwegian Cruise Line: Norwegian Spirit

6th May 2018, 11 nts, departing: Cruise Only

Visiting: Rome (Civitavecchia) - Dubrovnik - Venice - Koper - Split - Corfu - Katakolon - Malta (La Valletta) - Rome (Civitavecchia)

01 6523009
Canary Islands, Spain & Morocco from Málaga

Norwegian Cruise Line: Norwegian Spirit

11th Feb 2018, 10 nts, departing: Cruise Only

Visiting: Granada - Alicante - Barcelona - Casablanca - Las Palmas,Gran Canaria - Santa Cruz de Tenerife - Funchal - Granada

01 6523009
Eastern Mediterranean & Greek Isles from Rome

Norwegian Cruise Line: Norwegian Spirit

17th May 2018, 10 nts, departing: Cruise Only

Visiting: Rome (Civitavecchia) - Mykonos - Athens (Piraeus) - Rhodes - Santorini Island - Chania, Crete - Malta (La Valletta) - Messina - Naples - Rome (Civitavecchia)

01 6523009
Hawaii - Round-trip Honolulu

Norwegian Cruise Line: Pride of America

24th Mar 2018, 7 nts, departing: Cruise Only

Visiting: Honolulu - Kahalui - Hilo - Kona - Nawiliwili - Honolulu

01 6523009
Hawaii - Round-trip Honolulu

Norwegian Cruise Line: Pride of America

17th Mar 2018, 7 nts, departing: Cruise Only

Visiting: Honolulu - Kahalui - Hilo - Kona - Nawiliwili - Honolulu

01 6523009
Hawaii - Round-trip Honolulu

Norwegian Cruise Line: Pride of America

3rd Mar 2018, 7 nts, departing: Cruise Only

Visiting: Honolulu - Kahalui - Hilo - Kona - Nawiliwili - Honolulu

01 6523009
Hawaii - Round-trip Honolulu

Norwegian Cruise Line: Pride of America

10th Mar 2018, 7 nts, departing: Cruise Only

Visiting: Honolulu - Kahalui - Hilo - Kona - Nawiliwili - Honolulu

01 6523009
Eastern Mediterranean & Greek Isles from Rome

Norwegian Cruise Line: Norwegian Spirit

26th Apr 2018, 10 nts, departing: Cruise Only

Visiting: Rome (Civitavecchia) - Mykonos - Athens (Piraeus) - Rhodes - Santorini Island - Chania, Crete - Malta (La Valletta) - Messina - Naples - Rome (Civitavecchia)

01 6523009
Hawaii - Round-trip Honolulu

Norwegian Cruise Line: Pride of America

24th Feb 2018, 7 nts, departing: Cruise Only

Visiting: Honolulu - Kahalui - Hilo - Kona - Nawiliwili - Honolulu

01 6523009