2018 NEW YEAR MSC CRUISE HOLIDAY SALE!
Unbeatable MSC Cruise Holiday Offers
---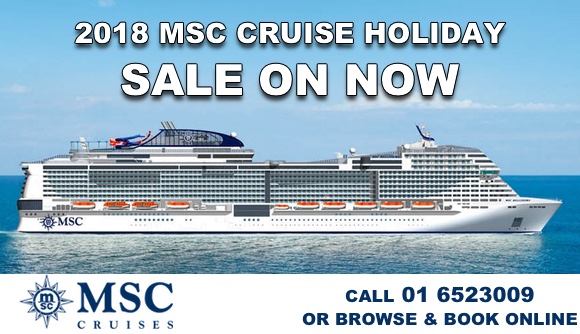 2018 NEW YEAR MSC CRUISE HOLIDAYS SALE ON NOW!
The Best Mediterranean Cruise Holidays Are MSC Cruise Holidays!
Take advantage of great savings across all MSC Cruises setting sale in 2018. Browse now, and don't miss out!
Scroll down for the latest MSC Cruise Holiday offers, or call: 01 6523009 to book.
---
United States, Jamaica to Virgin Islands

MSC Cruises: MSC Divina

4th Feb 2018, 21 nts, departing: Cruise Only

Visiting: Miami - Ocho Rios - Oranjestad, Aruba - Cartagena, Colombia - Cristobal, Panama - Belize - Freeport - Miami - Charlotte Amalie - St. Kitts - Fort de France - Bridgetown - Point-a-Pitre - Bahama Islands - Miami

01 6523009
United States, Jamaica to Virgin Islands

MSC Cruises: MSC Divina

4th Feb 2018, 11 nts, departing: Cruise Only

Visiting: Miami - Ocho Rios - Oranjestad, Aruba - Cartagena, Colombia - Cristobal, Panama - Belize - Freeport - Miami

01 6523009
Abu Dhabi, United Arab Emirates

MSC Cruises: MSC Splendida

28th Jan 2018, 7 nts, departing: Cruise Only

Visiting: Abu Dhabi - Sir Bani Yas Island (UAE) - Muscat - Khasab - Dubai - Abu Dhabi

01 6523009
United Arab Emirates, Oman

MSC Cruises: MSC Splendida

12th Jan 2019, 7 nts, departing: Cruise Only

Visiting: Dubai - Abu Dhabi - Sir Bani Yas Island (UAE) - Khor al Fakkan, UAE - Dubai

01 6523009
United Arab Emirates, Bahrain, Qatar

MSC Cruises: MSC Splendida

8th Dec 2018, 7 nts, departing: Cruise Only

Visiting: Dubai - Abu Dhabi - Sir Bani Yas Island (UAE) - Bahrain - Doha - Dubai

01 6523009
United States, St. Maarten, Puerto

MSC Cruises: MSC Seaside

14th Apr 2018, 7 nts, departing: Cruise Only

Visiting: Miami - Philipsburg, St Maarten - San Juan - Nassau - Miami

01 6523009
United Arab Emirates, Oman

MSC Cruises: MSC Splendida

5th Jan 2019, 7 nts, departing: Cruise Only

Visiting: Dubai - Abu Dhabi - Sir Bani Yas Island (UAE) - Khor al Fakkan, UAE - Dubai

01 6523009
United States, Bahamas, Puerto Rico, St. Maarten

MSC Cruises: MSC Seaside

31st Mar 2018, 7 nts, departing: Cruise Only

Visiting: Miami - Nassau - San Juan - Philipsburg, St Maarten - Miami

01 6523009
United States, Jamaica, Cayman Islands, Mexico

MSC Cruises: MSC Seaside

7th Apr 2018, 7 nts, departing: Cruise Only

Visiting: Miami - Ocho Rios - George Town, Cayman Islands - Cozumel - Costa Maya - Miami

01 6523009
Guadeloupe, St. Maarten, Virgin Islands

MSC Cruises: MSC Fantasia

4th Feb 2018, 7 nts, departing: Cruise Only

Visiting: Point-a-Pitre - St John's, Antigua - Kingstown - La Romana - St. Kitts - Fort de France - Point-a-Pitre

01 6523009
United States, Jamaica to Virgin Islands

MSC Cruises: MSC Divina

25th Feb 2018, 11 nts, departing: Cruise Only

Visiting: Miami - Ocho Rios - Cartagena, Colombia - Cristobal, Panama - Puerto Limon - Costa Maya - Ocean Cay MSC Marine Reserve - Miami

01 6523009
USA, Jamaica, Cayman Islands, Mexico, Bahamas

MSC Cruises: MSC Seaside

24th Mar 2018, 7 nts, departing: Cruise Only

Visiting: Miami - Ocho Rios - George Town, Cayman Islands - Cozumel - Nassau - Miami

01 6523009
Barbados, Trinidad and Tobago, Grenada, Dominica

MSC Cruises: MSC Fantasia

30th Jan 2018, 14 nts, departing: Cruise Only

Visiting: Bridgetown - Port of Spain - St Georges, Grenada - Roseau - Fort de France - Point-a-Pitre - Philipsburg, St Maarten - Roadtown - Kingstown - St. Kitts - St John's, Antigua - Fort de France - Point-a-Pitre - Castries - Bridgetown

01 6523009
United Arab Emirates, Oman

MSC Cruises: MSC Splendida

22nd Dec 2018, 7 nts, departing: Cruise Only

Visiting: Dubai - Abu Dhabi - Sir Bani Yas Island (UAE) - Khor al Fakkan, UAE - Dubai

01 6523009
United Arab Emirates, Bahrain, Qatar

MSC Cruises: MSC Splendida

29th Dec 2018, 7 nts, departing: Cruise Only

Visiting: Dubai - Abu Dhabi - Sir Bani Yas Island (UAE) - Bahrain - Doha - Dubai

01 6523009
US, Antigua&Barbuda, St Kitts, Martinique, Bahamas

MSC Cruises: MSC Divina

15th Feb 2018, 10 nts, departing: Cruise Only

Visiting: Miami - Charlotte Amalie - St. Kitts - Fort de France - Bridgetown - Point-a-Pitre - Miami

01 6523009
Guadeloupe, St. Lucia, Barbados, Trinidad

MSC Cruises: MSC Fantasia

28th Jan 2018, 7 nts, departing: Cruise Only

Visiting: Point-a-Pitre - St John's, Antigua - Kingstown - La Romana - St. Kitts - Fort de France - Point-a-Pitre

01 6523009