Cruise Holiday Offers in 2018
The holiday season is not over! You can rejoice at starting to plan your next adventure, dreaming about soaking up the sun and discovering instagram-worthy holiday spots. New cruises and exciting destinations are in the making for Cruise Holidays 2018. You can book them now, there are lots of offers available. All the information is at your fingertips so make sure to keep tabs on the latest news on Cruise Holidays in 2018.
Browse through the latest Cruise Holiday deals below and read on to find out about the new ships that will steal the spotlight and major announcements in 2018.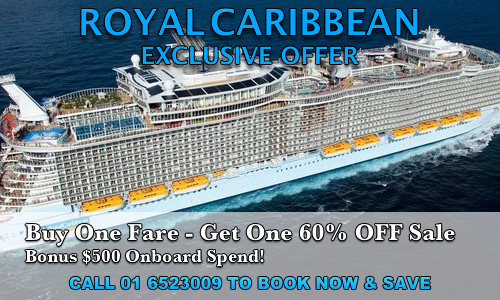 ROYAL CARIBBEAN SALE
Buy One - Get One 60% Off Offer.
Bonus $500 On Cruise Spend
Don't miss out on this fantastic offer from one the world's leading cruise line brands.
View cruise destinations here, or call: 01 6523009 to book.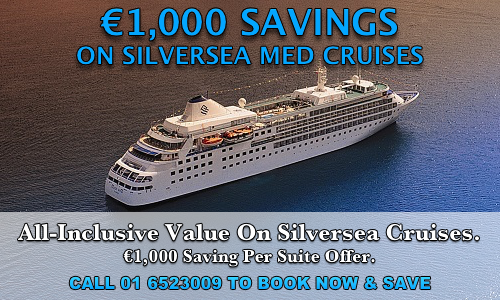 €1,000 SAVING ON SILVERSEA MED CRUISES SALE!
All-Inclusive Value On Silversea Cruises. €1,000 Saving Per Suite Offer.
Call Now To Book And Save! Make the ultimate Mediterranean cruise holiday a reality with Silversea cruises. These luxury offers are available for a limited time only.
View Mediterranean cruise destinations here, or call: 01 6523009 to book.
---
Barcelona to Barcelona

Royal Caribbean International: Symphony of the Seas

31st Mar 2018, 5 nts, departing: Cruise Only

Visiting: Barcelona - Capri - Rome (Civitavecchia) - Barcelona

01 6523009
United States, Bahamas, Puerto Rico, St. Maarten

MSC Cruises: MSC Seaside

31st Mar 2018, 7 nts, departing: Cruise Only

Visiting: Miami - Nassau - San Juan - Philipsburg, St Maarten - Miami

01 6523009
Western Mediterranean

Royal Caribbean International: Symphony of the Seas

7th Apr 2018, 7 nts, departing: Cruise Only

Visiting: Barcelona - Palma De Mallorca - Marseille - La Spezia - Rome (Civitavecchia) - Capri - Barcelona

01 6523009
United States, Jamaica, Cayman Islands, Mexico

MSC Cruises: MSC Seaside

7th Apr 2018, 7 nts, departing: Cruise Only

Visiting: Miami - Ocho Rios - George Town, Cayman Islands - Cozumel - Costa Maya - Miami

01 6523009
Western Mediterranean

Royal Caribbean International: Symphony of the Seas

14th Apr 2018, 7 nts, departing: Cruise Only

Visiting: Barcelona - Palma De Mallorca - Marseille - La Spezia - Rome (Civitavecchia) - Capri - Barcelona

01 6523009
United States, St. Maarten, Puerto

MSC Cruises: MSC Seaside

14th Apr 2018, 7 nts, departing: Cruise Only

Visiting: Miami - Philipsburg, St Maarten - San Juan - Nassau - Miami

01 6523009
Western Mediterranean

Royal Caribbean International: Symphony of the Seas

21st Apr 2018, 7 nts, departing: Cruise Only

Visiting: Barcelona - Palma De Mallorca - Marseille - La Spezia - Rome (Civitavecchia) - Capri - Barcelona

01 6523009
Alaska Southern Glacier Cruise

Celebrity Cruises: Celebrity Millennium

18th May 2018, 7 nts, departing: Cruise Only

Visiting: Seward - Hubbard Glacier - Juneau - Skagway - Icy Strait - Ketchikan - Vancouver

01 6523009
Alaska Tracy Arm Fjord

Celebrity Cruises: Celebrity Solstice

18th May 2018, 7 nts, departing: Cruise Only

Visiting: Seattle - Ketchikan - Tracy Arm Fjord - Juneau - Skagway - Victoria, British Colombia - Seattle

01 6523009
Alaska Northern Glacier Cruise

Celebrity Cruises: Celebrity Millennium

25th May 2018, 7 nts, departing: Cruise Only

Visiting: Vancouver - Ketchikan - Icy Strait - Juneau - Skagway - Hubbard Glacier - Seward

01 6523009
Alaska Hubbard Glacier

Celebrity Cruises: Celebrity Infinity

27th May 2018, 7 nts, departing: Cruise Only

Visiting: Vancouver - Icy Strait - Hubbard Glacier - Juneau - Ketchikan - Vancouver

01 6523009
Alaska Tracy Arm Fjord

Celebrity Cruises: Celebrity Solstice

22nd Jun 2018, 7 nts, departing: Cruise Only

Visiting: Seattle - Ketchikan - Tracy Arm Fjord - Juneau - Skagway - Victoria, British Colombia - Seattle

01 6523009
Alaska Northern Glacier Cruise

Celebrity Cruises: Celebrity Millennium

22nd Jun 2018, 7 nts, departing: Cruise Only

Visiting: Vancouver - Ketchikan - Icy Strait - Juneau - Skagway - Hubbard Glacier - Seward

01 6523009
Alaska Hubbard Glacier

Celebrity Cruises: Celebrity Infinity

24th Jun 2018, 7 nts, departing: Cruise Only

Visiting: Vancouver - Sitka - Hubbard Glacier - Juneau - Ketchikan - Vancouver

01 6523009
Greek Isles Cruise

Royal Caribbean International: Rhapsody of the Seas

3rd Nov 2018, 7 nts, departing: Cruise Only

Visiting: Venice - Kotor - Corfu - Athens (Piraeus) - Mykonos - Argostoli - Venice

01 6523009
Greek Isles Cruise

Royal Caribbean International: Rhapsody of the Seas

17th Nov 2018, 7 nts, departing: Cruise Only

Visiting: Venice - Kotor - Corfu - Athens (Piraeus) - Mykonos - Argostoli - Venice

01 6523009
United Arab Emirates, Bahrain, Qatar

MSC Cruises: MSC Splendida

8th Dec 2018, 7 nts, departing: Cruise Only

Visiting: Dubai - Abu Dhabi - Sir Bani Yas Island (UAE) - Bahrain - Doha - Dubai

01 6523009
United Arab Emirates, Oman

MSC Cruises: MSC Splendida

22nd Dec 2018, 7 nts, departing: Cruise Only

Visiting: Dubai - Abu Dhabi - Sir Bani Yas Island (UAE) - Khor al Fakkan, UAE - Dubai

01 6523009
United Arab Emirates, Bahrain, Qatar

MSC Cruises: MSC Splendida

29th Dec 2018, 7 nts, departing: Cruise Only

Visiting: Dubai - Abu Dhabi - Sir Bani Yas Island (UAE) - Bahrain - Doha - Dubai

01 6523009
United Arab Emirates, Oman

MSC Cruises: MSC Splendida

5th Jan 2019, 7 nts, departing: Cruise Only

Visiting: Dubai - Abu Dhabi - Sir Bani Yas Island (UAE) - Khor al Fakkan, UAE - Dubai

01 6523009
United Arab Emirates, Oman

MSC Cruises: MSC Splendida

12th Jan 2019, 7 nts, departing: Cruise Only

Visiting: Dubai - Abu Dhabi - Sir Bani Yas Island (UAE) - Khor al Fakkan, UAE - Dubai

01 6523009