Cruise Holiday Offers in 2018
The holiday season is not over! You can rejoice at starting to plan your next adventure, dreaming about soaking up the sun and discovering instagram-worthy holiday spots. New cruises and exciting destinations are in the making for Cruise Holidays 2018. You can book them now, there are lots of offers available. All the information is at your fingertips so make sure to keep tabs on the latest news on Cruise Holidays in 2018.
Browse through the latest Cruise Holiday deals below and read on to find out about the new ships that will steal the spotlight and major announcements in 2018.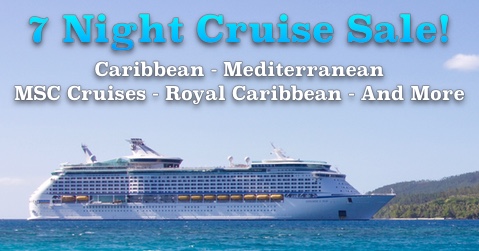 7-NIGHT CRUISE SALE
All the best deals and exclusive upgrades on 7-night cruises sailing in 2019.
Don't miss out on fantastic extras such as:
- Drinks packages.
- Free Onboard Wi Fi.
- Cabin upgrades and more.
- Talk to Cruise Paradise now about the best deal for you. Call: 01 6523009 now to book and save.
Browse 7-night cruise holiday offers, or view cruise destinations here,
---
United States, St. Maarten, Puerto

MSC Cruises: MSC Seaside

27th Oct 2018, 7 nts, departing: Cruise Only

Visiting: Miami - Philipsburg, St Maarten - San Juan, Puerto Rico - Nassau - Miami

01 6523009
Greek Isles Cruise

Royal Caribbean International: Rhapsody of the Seas

3rd Nov 2018, 7 nts, departing: Cruise Only

Visiting: Venice - Kotor - Corfu - Athens (Piraeus) - Mykonos - Argostoli - Venice

01 6523009
United States,Virgin Islands (British),Antigua

MSC Cruises: MSC Divina

8th Nov 2018, 10 nts, departing: Cruise Only

Visiting: Miami - Roadtown - St. Kitts - Fort de France - Philipsburg, St Maarten - Miami

01 6523009
Greek Isles Cruise

Royal Caribbean International: Rhapsody of the Seas

17th Nov 2018, 7 nts, departing: Cruise Only

Visiting: Venice - Kotor - Corfu - Athens (Piraeus) - Mykonos - Argostoli - Venice

01 6523009
United Arab Emirates, Bahrain, Qatar

MSC Cruises: MSC Splendida

8th Dec 2018, 7 nts, departing: Cruise Only

Visiting: Dubai - Abu Dhabi - Sir Bani Yas Island (UAE) - Bahrain - Doha - Dubai

01 6523009
United Arab Emirates, Bahrain, Qatar

MSC Cruises: MSC Splendida

29th Dec 2018, 7 nts, departing: Cruise Only

Visiting: Dubai - Abu Dhabi - Sir Bani Yas Island (UAE) - Bahrain - Doha - Dubai

01 6523009