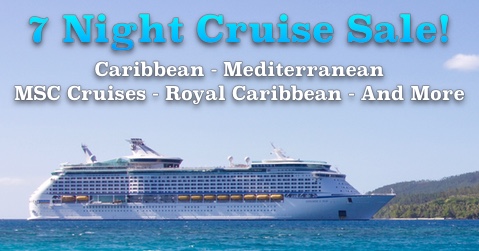 7-NIGHT CRUISE SALE
All the best deals and exclusive upgrades on 7-night cruises sailing in 2019.
Don't miss out on fantastic extras such as:
- Drinks packages.
- Free Onboard Wi Fi.
- Cabin upgrades and more.
- Talk to Cruise Paradise now about the best deal for you. Call: 01 6523009 now to book and save.
Browse 7-night cruise holiday offers, or view cruise destinations here,
---
Why Cruise To The Mediterranean From Ireland?
Want to go on a cruise but not want to fly to meet the ship? Then choose a cruise from Ireland, and begin your holiday the moment you set foot on the ship. Take the stress out of making connecting flights and begin your cruise from either Dublin, Cork or Belfast. Our exciting and varied offers on cruises from Ireland bring cruising closer to home.

No Fly Med Cruises From Ireland
The benefits of no fly cruises from Ireland are there are no limits on baggage allowances, no stress over connecting flights and smaller sized cruise ships with access to more ports of call. The downside is there is less choice, as you are limited by the number of ships calling at Irish ports. However, the variety and number of cruise lines calling at Irish ports is growing year by year leading to some fantastic holidays on offer.
Celebrity Cruises are about to make history. After eight years of calling Southampton home, Celebrity Eclipse is set for a mini season in Dublin in 2018. On offer is the Ireland and Iceland special for 10 nights sailing on board the Celebrity Eclipse. Departure is 30th April 2018 calling at Dublin, Rejkavik, Akueyri, Lerwick, Cork and return Dublin. Embark and disembark in Dublin. No Flights No luggage. No worries. For more information, visit Celebrity Cruises. To enquire about this offer please call 01 6523009 now.
Fly Cruises To The Mediterranean
As well as a wide range of cruise holidays departing from Irish ports, Cruise Paradise also offers a choice of fly cruises. Fly cruises allow you the opportunity to begin your cruise holiday from the first port of call. Conveniently, most cruise lines will allow you the choice of a fly and cruise package, or you can book your own flights.
Fly cruise packages work just like standard package holiday. You fly from your own regional airport and are transferred to your port of departure. After the cruise holiday you are transferred back to the airport for your return flight. Should you require an overnight stay as part of the package, the cruise lines will arrange this, though many flights arrive on the day of departure. The benefits of a fly cruise are that you can get to explore the globe without needing a World cruise. A fly cruise also gives you more time to explore as you are immdiately in the hear of the action. If a Caribbean cruise is to your liking then you can fly to Miami or jet to New York for a Tranatlantic cruise. Or you might prefer a Mediterranean cruise from Palma or Barcelona.