Caribbean Cruise Holiday Special Offers
Here at Cruise Paradise we provide a whole host of discount and luxury cruise special offers for the Caribbean. Our Caribbean cruise holidays are available from all of the leading cruise vacation specialist liners. This includes Royal Caribbean, Cunard Cruises, Princess Cruises, Celebrity Cruises, P and O and many more. As Cruise Paradise is Ireland's leading cruise holiday travel agent, we offer more cruise line branded packages than any other fully bonded agent nationwide. So you can rest assured your Caribbean cruise holiday will be packed with fantastic destinations, comfort, extras and value!
Our selection of
Caribbean cruise
special offers include exclusive deals on the best Caribbean cruise holiday deals available in Ireland. The Cruise Paradise team are ready to take your call, and provide expert advice in arranging your dream Caribbean cruise experience.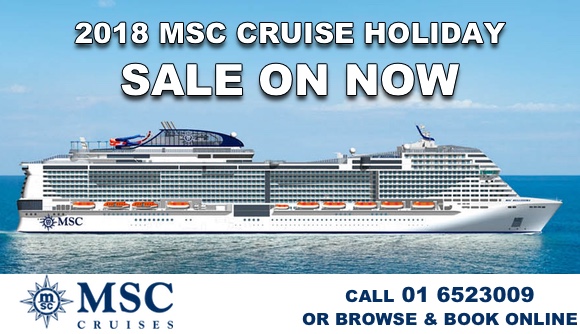 2018 NEW YEAR MEGA MSC CRUISE SALE
ALL MSC CRUISE HOLIDAYS DISCOUNTED
The Best Mediterranean and Caribbean Cruise Holidays are MSC Cruise Holidays! Take advantage of great savings across all MSC Cruises setting sale in 2018. Browse now, and don't miss out! View online cruise holiday offers here, or call: 01 6523009 to book.
---
Guadeloupe, St. Lucia, Barbados, Trinidad

MSC Cruises: MSC Fantasia

28th Jan 2018, 7 nts, departing: Cruise Only

Visiting: Point-a-Pitre - St John's, Antigua - Kingstown - La Romana - St. Kitts - Fort de France - Point-a-Pitre

01 6523009
Southern Caribbean

Royal Caribbean International: Anthem of the Seas

28th Jan 2018, 12 nts, departing: Cruise Only

Visiting: Cape Liberty, New Jersey - San Juan - Philipsburg, St Maarten - St John's, Antigua - Castries - Bridgetown - Basseterre - Cape Liberty, New Jersey

01 6523009
Barbados, Trinidad and Tobago, Grenada, Dominica

MSC Cruises: MSC Fantasia

30th Jan 2018, 14 nts, departing: Cruise Only

Visiting: Bridgetown - Port of Spain - St Georges, Grenada - Roseau - Fort de France - Point-a-Pitre - Philipsburg, St Maarten - Roadtown - Kingstown - St. Kitts - St John's, Antigua - Fort de France - Point-a-Pitre - Castries - Bridgetown

01 6523009
United States, Jamaica to Virgin Islands

MSC Cruises: MSC Divina

4th Feb 2018, 21 nts, departing: Cruise Only

Visiting: Miami - Ocho Rios - Oranjestad, Aruba - Cartagena, Colombia - Cristobal, Panama - Belize - Freeport - Miami - Charlotte Amalie - St. Kitts - Fort de France - Bridgetown - Point-a-Pitre - Bahama Islands - Miami

01 6523009
United States, Jamaica to Virgin Islands

MSC Cruises: MSC Divina

4th Feb 2018, 11 nts, departing: Cruise Only

Visiting: Miami - Ocho Rios - Oranjestad, Aruba - Cartagena, Colombia - Cristobal, Panama - Belize - Freeport - Miami

01 6523009
Guadeloupe, St. Maarten, Virgin Islands

MSC Cruises: MSC Fantasia

4th Feb 2018, 7 nts, departing: Cruise Only

Visiting: Point-a-Pitre - St John's, Antigua - Kingstown - La Romana - St. Kitts - Fort de France - Point-a-Pitre

01 6523009
US, Antigua&Barbuda, St Kitts, Martinique, Bahamas

MSC Cruises: MSC Divina

15th Feb 2018, 10 nts, departing: Cruise Only

Visiting: Miami - Charlotte Amalie - St. Kitts - Fort de France - Bridgetown - Point-a-Pitre - Miami

01 6523009
United States, Jamaica to Virgin Islands

MSC Cruises: MSC Divina

25th Feb 2018, 11 nts, departing: Cruise Only

Visiting: Miami - Ocho Rios - Cartagena, Colombia - Cristobal, Panama - Puerto Limon - Costa Maya - Ocean Cay MSC Marine Reserve - Miami

01 6523009
Ultimate Caribbean

Celebrity Cruises: Celebrity Reflection

23rd Mar 2018, 10 nts, departing: Cruise Only

Visiting: Fort Lauderdale - St John's, Antigua - Bridgetown - Castries - Philipsburg, St Maarten - Fort Lauderdale

01 6523009
USA, Jamaica, Cayman Islands, Mexico, Bahamas

MSC Cruises: MSC Seaside

24th Mar 2018, 7 nts, departing: Cruise Only

Visiting: Miami - Ocho Rios - George Town, Cayman Islands - Cozumel - Nassau - Miami

01 6523009
Western Caribbean

Celebrity Cruises: Celebrity Equinox

24th Mar 2018, 7 nts, departing: Cruise Only

Visiting: Miami - Key West - Costa Maya - Cozumel - George Town, Cayman Islands - Miami

01 6523009
Eastern Caribbean

Celebrity Cruises: Celebrity Silhouette

25th Mar 2018, 7 nts, departing: Cruise Only

Visiting: Fort Lauderdale - San Juan - Charlotte Amalie - Philipsburg, St Maarten - Fort Lauderdale

01 6523009
United States, Bahamas, Puerto Rico, St. Maarten

MSC Cruises: MSC Seaside

31st Mar 2018, 7 nts, departing: Cruise Only

Visiting: Miami - Nassau - San Juan - Philipsburg, St Maarten - Miami

01 6523009
Eastern Caribbbean

Celebrity Cruises: Celebrity Equinox

31st Mar 2018, 7 nts, departing: Cruise Only

Visiting: Miami - San Juan - Philipsburg, St Maarten - Basseterre - Miami

01 6523009
Western Caribbean

Celebrity Cruises: Celebrity Silhouette

1st Apr 2018, 7 nts, departing: Cruise Only

Visiting: Fort Lauderdale - Key West - Costa Maya - Cozumel - George Town, Cayman Islands - Fort Lauderdale

01 6523009
Ultimate Caribbean

Celebrity Cruises: Celebrity Reflection

2nd Apr 2018, 11 nts, departing: Cruise Only

Visiting: Fort Lauderdale - George Town, Cayman Islands - Cartagena, Colombia - Oranjestad, Aruba - Willemstad, Curacao - Kralendijk,Bonaire - Fort Lauderdale

01 6523009
United States, Jamaica, Cayman Islands, Mexico

MSC Cruises: MSC Seaside

7th Apr 2018, 7 nts, departing: Cruise Only

Visiting: Miami - Ocho Rios - George Town, Cayman Islands - Cozumel - Costa Maya - Miami

01 6523009
Southern Caribbean

Celebrity Cruises: Celebrity Equinox

7th Apr 2018, 8 nts, departing: Cruise Only

Visiting: Miami - Oranjestad, Aruba - Willemstad, Curacao - Kralendijk,Bonaire - Miami

01 6523009
Eastern Caribbean

Celebrity Cruises: Celebrity Silhouette

8th Apr 2018, 7 nts, departing: Cruise Only

Visiting: Fort Lauderdale - San Juan - Charlotte Amalie - Philipsburg, St Maarten - Fort Lauderdale

01 6523009
United States, St. Maarten, Puerto

MSC Cruises: MSC Seaside

14th Apr 2018, 7 nts, departing: Cruise Only

Visiting: Miami - Philipsburg, St Maarten - San Juan - Nassau - Miami

01 6523009
Southern Caribbean

Celebrity Cruises: Celebrity Summit

14th Apr 2018, 7 nts, departing: Cruise Only

Visiting: San Juan - Bridgetown - Castries - St John's, Antigua - Basseterre - Charlotte Amalie - San Juan

01 6523009
Eastern Caribbean

Celebrity Cruises: Celebrity Equinox

15th Apr 2018, 8 nts, departing: Cruise Only

Visiting: Miami - San Juan - Philipsburg, St Maarten - Charlotte Amalie - Punta Cana, Domnican Republic - Nassau - Miami

01 6523009