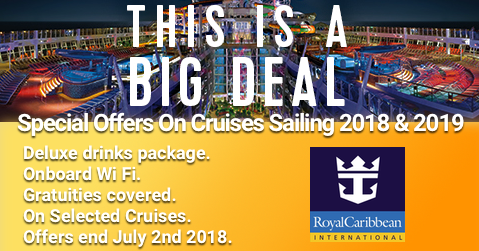 ROYAL CARIBBEAN SALE
All the best upgrades included on Cruises sailing 2018 and 2019.
Don't miss out on fantastic extras such as:
- Deluxe drinks package.
- Onboard Wi Fi.
- Gratuities covered.
Offer ends July 2nd 2018.
Don't miss out on this fantastic offer
View cruise destinations here, or call: 01 6523009 now to book and save.
---
Eastern Caribbean

Royal Caribbean International: Oasis of the Seas

26th Aug 2018, 7 nts, departing: Cruise Only

Visiting: Port Canaveral - Philipsburg, St Maarten - San Juan - Labadee - Port Canaveral

01 6523009
Western Caribbean from Miami

Norwegian Cruise Line: Norwegian Getaway

26th Aug 2018, 7 nts, departing: Cruise Only

Visiting: Miami - Roatan, Bay Islands - Harvest Caye, Belize - Costa Maya - Cozumel - Miami

01 6523009
Cuba (Overnight) & Bahamas from Miami

Norwegian Cruise Line: Norwegian Sky

27th Aug 2018, 4 nts, departing: Cruise Only

Visiting: Miami - Havana - Great Stirrup Cay - Miami

01 6523009
Cuba Overnight & Key West from Orlando

Norwegian Cruise Line: Norwegian Sun

27th Aug 2018, 4 nts, departing: Cruise Only

Visiting: Orlando - Key West - Havana - Orlando

01 6523009
Eastern Caribbean

Royal Caribbean International: Oasis of the Seas

2nd Sep 2018, 7 nts, departing: Cruise Only

Visiting: Port Canaveral - Nassau - Charlotte Amalie - Philipsburg, St Maarten - Port Canaveral

01 6523009
Western Caribbean from Miami

Norwegian Cruise Line: Norwegian Getaway

2nd Sep 2018, 7 nts, departing: Cruise Only

Visiting: Miami - Costa Maya - Harvest Caye, Belize - Roatan, Bay Islands - Cozumel - Miami

01 6523009
Cuba (Overnight) & Bahamas from Miami

Norwegian Cruise Line: Norwegian Sky

3rd Sep 2018, 4 nts, departing: Cruise Only

Visiting: Miami - Havana - Great Stirrup Cay - Miami

01 6523009
Cuba Overnight & Key West from Orlando

Norwegian Cruise Line: Norwegian Sun

3rd Sep 2018, 4 nts, departing: Cruise Only

Visiting: Orlando - Key West - Havana - Orlando

01 6523009
Cuba (Overnight) & Bahamas from Port Canaveral

Norwegian Cruise Line: Norwegian Sun

3rd Sep 2018, 5 nts, departing: Cruise Only

Visiting: Orlando - Key West - Havana - Great Stirrup Cay - Orlando

01 6523009
Western Caribbean

Royal Caribbean International: Oasis of the Seas

9th Sep 2018, 7 nts, departing: Cruise Only

Visiting: Port Canaveral - Labadee - Falmouth,Jamaica - Cozumel - Port Canaveral

01 6523009
Western Caribbean from Miami

Norwegian Cruise Line: Norwegian Getaway

9th Sep 2018, 7 nts, departing: Cruise Only

Visiting: Miami - Roatan, Bay Islands - Harvest Caye, Belize - Costa Maya - Cozumel - Miami

01 6523009
Cuba & Caribbean from Miami

Norwegian Cruise Line: Norwegian Sun

9th Sep 2018, 7 nts, departing: Cruise Only

Visiting: Miami - Great Stirrup Cay - Havana - Harvest Caye, Belize - Costa Maya - Miami

01 6523009
Cuba Overnight & Key West from Orlando

Norwegian Cruise Line: Norwegian Sun

10th Sep 2018, 4 nts, departing: Cruise Only

Visiting: Orlando - Key West - Havana - Orlando

01 6523009
Cuba (Overnight) & Bahamas from Miami

Norwegian Cruise Line: Norwegian Sky

10th Sep 2018, 4 nts, departing: Cruise Only

Visiting: Miami - Great Stirrup Cay - Havana - Miami

01 6523009
Eastern Caribbean

Royal Caribbean International: Oasis of the Seas

16th Sep 2018, 7 nts, departing: Cruise Only

Visiting: Port Canaveral - Nassau - Charlotte Amalie - Philipsburg, St Maarten - Port Canaveral

01 6523009
Western Caribbean from Miami

Norwegian Cruise Line: Norwegian Getaway

16th Sep 2018, 7 nts, departing: Cruise Only

Visiting: Miami - Costa Maya - Harvest Caye, Belize - Roatan, Bay Islands - Cozumel - Miami

01 6523009
Cuba & Caribbean from Miami

Norwegian Cruise Line: Norwegian Sun

16th Sep 2018, 7 nts, departing: Cruise Only

Visiting: Miami - Great Stirrup Cay - Havana - Harvest Caye, Belize - Costa Maya - Miami

01 6523009
Cuba Overnight & Key West from Orlando

Norwegian Cruise Line: Norwegian Sun

17th Sep 2018, 4 nts, departing: Cruise Only

Visiting: Orlando - Key West - Havana - Orlando

01 6523009
Cuba (Overnight) & Bahamas from Miami

Norwegian Cruise Line: Norwegian Sky

17th Sep 2018, 4 nts, departing: Cruise Only

Visiting: Miami - Great Stirrup Cay - Havana - Miami

01 6523009
Western Caribbean

Royal Caribbean International: Oasis of the Seas

30th Sep 2018, 7 nts, departing: Cruise Only

Visiting: Port Canaveral - Labadee - Falmouth,Jamaica - Cozumel - Port Canaveral

01 6523009
Western Caribbean from Miami

Norwegian Cruise Line: Norwegian Getaway

30th Sep 2018, 7 nts, departing: Cruise Only

Visiting: Miami - Costa Maya - Harvest Caye, Belize - Roatan, Bay Islands - Cozumel - Miami

01 6523009
Cuba & Caribbean from Miami

Norwegian Cruise Line: Norwegian Sun

30th Sep 2018, 7 nts, departing: Cruise Only

Visiting: Miami - Great Stirrup Cay - Havana - Harvest Caye, Belize - Costa Maya - Miami

01 6523009
Western Caribbean

Carnival Cruise Line: Carnival Miracle

30th Sep 2018, 7 nts, departing: Cruise Only

Visiting: Tampa - Cozumel - Belize - Mahogany Bay - Grand Cayman - Tampa

01 6523009
Western Caribbean from New Orleans

Carnival Cruise Line: Carnival Dream

30th Sep 2018, 7 nts, departing: Cruise Only

Visiting: New Orleans - Montego Bay - Grand Cayman - Cozumel - New Orleans

01 6523009
Eastern Caribbean from Port Canaveral (Orlando)

Carnival Cruise Line: Carnival Breeze

30th Sep 2018, 6 nts, departing: Cruise Only

Visiting: Port Canaveral - Nassau - Amber Cove, Dominican Republic - Grand Turk - Port Canaveral

01 6523009
Western Caribbean from Miami

Carnival Cruise Line: Carnival Magic

30th Sep 2018, 7 nts, departing: Cruise Only

Visiting: Miami - Grand Cayman - Mahogany Bay - Belize - Cozumel - Miami

01 6523009
Western Caribbean from galvetson

Carnival Cruise Line: Carnival Vista

30th Sep 2018, 7 nts, departing: Cruise Only

Visiting: Galveston - Mahogany Bay - Belize - Cozumel - Galveston

01 6523009
Eastern Caribbean from Baltimore

Carnival Cruise Line: Carnival Pride

30th Sep 2018, 7 nts, departing: Cruise Only

Visiting: Baltimore - Grand Turk - Half Moon Cay - Freeport - Baltimore

01 6523009
Western Caribbean from Miami

Carnival Cruise Line: Carnival Horizon

30th Sep 2018, 6 nts, departing: Cruise Only

Visiting: Miami - Ocho Rios - Grand Cayman - Cozumel - Miami

01 6523009
Southern Caribbean from San Juan

Carnival Cruise Line: Carnival Fascination

30th Sep 2018, 7 nts, departing: Cruise Only

Visiting: San Juan - St. Thomas (US Virgin Islands) - Dominica - Bridgetown - St. Lucia - St. Kitts - Philipsburg, St Maarten - San Juan

01 6523009
Cuba Overnight & Key West from Orlando

Norwegian Cruise Line: Norwegian Sun

1st Oct 2018, 4 nts, departing: Cruise Only

Visiting: Orlando - Key West - Havana - Orlando

01 6523009
Cuba (Overnight) & Bahamas from Miami

Norwegian Cruise Line: Norwegian Sky

1st Oct 2018, 4 nts, departing: Cruise Only

Visiting: Miami - Great Stirrup Cay - Havana - Miami

01 6523009
Western Caribbean from Moblie

Carnival Cruise Line: Carnival Fantasy

1st Oct 2018, 5 nts, departing: Cruise Only

Visiting: Mobile, AL - Costa Maya - Cozumel - Mobile, AL

01 6523009
Southern Caribbean from Barbados

Carnival Cruise Line: Carnival Fascination

3rd Oct 2018, 7 nts, departing: Cruise Only

Visiting: Bridgetown - St. Lucia - St. Kitts - Philipsburg, St Maarten - San Juan - St. Thomas (US Virgin Islands) - Bridgetown

01 6523009
Western Caribbean from Tampa, FL

Carnival Cruise Line: Carnival Paradise

4th Oct 2018, 4 nts, departing: Cruise Only

Visiting: Tampa - Cozumel - Tampa

01 6523009
Western Caribbean from New Orleans, LA

Carnival Cruise Line: Carnival Triumph

4th Oct 2018, 4 nts, departing: Cruise Only

Visiting: New Orleans - Cozumel - New Orleans

01 6523009
Western Caribbean from Miami

Carnival Cruise Line: Carnival Sensation

4th Oct 2018, 4 nts, departing: Cruise Only

Visiting: Miami - Key West - Cozumel - Miami

01 6523009
Mexican Riviera

Carnival Cruise Line: Carnival Splendor

6th Oct 2018, 7 nts, departing: Cruise Only

Visiting: Los Angeles - Cabo San Lucas - Mazatlán - Puerto Vallarta - Los Angeles

01 6523009
Western Caribbean from galvetson

Carnival Cruise Line: Carnival Freedom

6th Oct 2018, 7 nts, departing: Cruise Only

Visiting: Galveston - Cozumel - Belize - Mahogany Bay - Galveston

01 6523009
Western Caribbean from Galveston, TX

Carnival Cruise Line: Carnival Valor

6th Oct 2018, 5 nts, departing: Cruise Only

Visiting: Galveston - Cozumel - Progreso - Galveston

01 6523009
Eastern Caribbean from Miami

Carnival Cruise Line: Carnival Horizon

6th Oct 2018, 8 nts, departing: Cruise Only

Visiting: Miami - Grand Turk - San Juan - St. Kitts - Philipsburg, St Maarten - Miami

01 6523009
Western Carribbean from Mobile

Carnival Cruise Line: Carnival Fantasy

6th Oct 2018, 5 nts, departing: Cruise Only

Visiting: Mobile, AL - Progreso - Cozumel - Mobile, AL

01 6523009
Western Caribbean from Miami

Carnival Cruise Line: Carnival Glory

6th Oct 2018, 7 nts, departing: Cruise Only

Visiting: Miami - Grand Cayman - Mahogany Bay - Belize - Cozumel - Miami

01 6523009
Eastern Caribbean from Port Canaveral

Carnival Cruise Line: Carnival Breeze

6th Oct 2018, 7 nts, departing: Cruise Only

Visiting: Port Canaveral - Amber Cove, Dominican Republic - St. Thomas (US Virgin Islands) - San Juan - Grand Turk - Port Canaveral

01 6523009
Eastern Caribbean

Royal Caribbean International: Oasis of the Seas

7th Oct 2018, 7 nts, departing: Cruise Only

Visiting: Port Canaveral - Philipsburg, St Maarten - San Juan - Labadee - Port Canaveral

01 6523009
Western Caribbean from Miami

Norwegian Cruise Line: Norwegian Getaway

7th Oct 2018, 7 nts, departing: Cruise Only

Visiting: Miami - Roatan, Bay Islands - Harvest Caye, Belize - Costa Maya - Cozumel - Miami

01 6523009
Cuba & Caribbean from Miami

Norwegian Cruise Line: Norwegian Sun

7th Oct 2018, 7 nts, departing: Cruise Only

Visiting: Miami - Great Stirrup Cay - Havana - Harvest Caye, Belize - Costa Maya - Miami

01 6523009
Cuba Overnight & Key West from Orlando

Norwegian Cruise Line: Norwegian Sun

8th Oct 2018, 4 nts, departing: Cruise Only

Visiting: Orlando - Key West - Havana - Orlando

01 6523009
Cuba (Overnight) & Bahamas from Miami

Norwegian Cruise Line: Norwegian Sky

8th Oct 2018, 4 nts, departing: Cruise Only

Visiting: Miami - Great Stirrup Cay - Havana - Miami

01 6523009
Eastern Caribbean

Royal Caribbean International: Oasis of the Seas

14th Oct 2018, 7 nts, departing: Cruise Only

Visiting: Port Canaveral - Nassau - Charlotte Amalie - Philipsburg, St Maarten - Port Canaveral

01 6523009
Eastern Caribbean from Miami

Norwegian Cruise Line: Norwegian Getaway

14th Oct 2018, 7 nts, departing: Cruise Only

Visiting: Miami - St. Thomas (US Virgin Islands) - Tortola - Nassau - Miami

01 6523009
Cuba & Caribbean from Miami

Norwegian Cruise Line: Norwegian Sun

14th Oct 2018, 7 nts, departing: Cruise Only

Visiting: Miami - Great Stirrup Cay - Havana - Harvest Caye, Belize - Costa Maya - Miami

01 6523009
Cuba Overnight & Key West from Orlando

Norwegian Cruise Line: Norwegian Sun

15th Oct 2018, 4 nts, departing: Cruise Only

Visiting: Orlando - Key West - Havana - Orlando

01 6523009
Cuba (Overnight) & Bahamas from Miami

Norwegian Cruise Line: Norwegian Sky

15th Oct 2018, 4 nts, departing: Cruise Only

Visiting: Miami - Great Stirrup Cay - Havana - Miami

01 6523009
Eastern Caribbean from New York

Norwegian Cruise Line: Norwegian Breakaway

16th Oct 2018, 11 nts, departing: Cruise Only

Visiting: New York - San Juan - St. Thomas (US Virgin Islands) - Philipsburg, St Maarten - St. Kitts - Tortola - New York

01 6523009
Western Caribbean

Royal Caribbean International: Oasis of the Seas

21st Oct 2018, 7 nts, departing: Cruise Only

Visiting: Port Canaveral - Labadee - Falmouth,Jamaica - Cozumel - Port Canaveral

01 6523009
Western Caribbean from Miami

Norwegian Cruise Line: Norwegian Getaway

21st Oct 2018, 7 nts, departing: Cruise Only

Visiting: Miami - Roatan, Bay Islands - Harvest Caye, Belize - Costa Maya - Cozumel - Miami

01 6523009
Cuba & Caribbean from Miami

Norwegian Cruise Line: Norwegian Sun

21st Oct 2018, 9 nts, departing: Cruise Only

Visiting: Miami - Great Stirrup Cay - Havana - Harvest Caye, Belize - Roatan, Bay Islands - Costa Maya - Cozumel - Miami

01 6523009
Cuba Overnight & Key West from Orlando

Norwegian Cruise Line: Norwegian Sun

22nd Oct 2018, 4 nts, departing: Cruise Only

Visiting: Orlando - Key West - Havana - Orlando

01 6523009
Cuba (Overnight) & Bahamas from Miami

Norwegian Cruise Line: Norwegian Sky

22nd Oct 2018, 4 nts, departing: Cruise Only

Visiting: Miami - Great Stirrup Cay - Havana - Miami

01 6523009
Eastern Caribbean from Boston

Norwegian Cruise Line: Norwegian Dawn

26th Oct 2018, 14 nts, departing: Cruise Only

Visiting: Boston, USA - St. Thomas (US Virgin Islands) - Philipsburg, St Maarten - St John's, Antigua - Castries - St. Kitts - Tortola - San Juan - Boston, USA

01 6523009
New York To New Orleans

Norwegian Cruise Line: Norwegian Breakaway

27th Oct 2018, 15 nts, departing: Cruise Only

Visiting: New York - San Juan - Tortola - Philipsburg, St Maarten - Castries - Willemstad, Curacao - Oranjestad, Aruba - Ocho Rios - George Town, Cayman Islands - Cozumel - New Orleans

01 6523009
Eastern Caribbean

Royal Caribbean International: Oasis of the Seas

28th Oct 2018, 7 nts, departing: Cruise Only

Visiting: Port Canaveral - Nassau - Charlotte Amalie - Philipsburg, St Maarten - Port Canaveral

01 6523009
Eastern Caribbean from Miami

Norwegian Cruise Line: Norwegian Getaway

28th Oct 2018, 7 nts, departing: Cruise Only

Visiting: Miami - St. Thomas (US Virgin Islands) - Tortola - Nassau - Miami

01 6523009
Eastern Caribbean

Royal Caribbean International: Oasis of the Seas

4th Nov 2018, 7 nts, departing: Cruise Only

Visiting: Port Canaveral - Nassau - Charlotte Amalie - Philipsburg, St Maarten - Port Canaveral

01 6523009
Panama Canal Round-trip from Tampa

Norwegian Cruise Line: Norwegian Pearl

4th Nov 2018, 14 nts, departing: Cruise Only

Visiting: Tampa - George Town, Cayman Islands - Ocho Rios - Santa Marta - Cartagena, Colombia - Panama Canal - Colon, Panama - Puerto Limon - Santo Thomas de Castilla - Harvest Caye, Belize - Costa Maya - Tampa

01 6523009
Western Caribbean from Miami

Norwegian Cruise Line: Norwegian Getaway

4th Nov 2018, 7 nts, departing: Cruise Only

Visiting: Miami - Roatan, Bay Islands - Harvest Caye, Belize - Costa Maya - Cozumel - Miami

01 6523009
Cuba (Overnight) & Bahamas from Miami

Norwegian Cruise Line: Norwegian Sky

5th Nov 2018, 4 nts, departing: Cruise Only

Visiting: Miami - Havana - Great Stirrup Cay - Miami

01 6523009
Panama Canal Round-trip from Miami

Norwegian Cruise Line: Norwegian Jade

5th Nov 2018, 11 nts, departing: Cruise Only

Visiting: Miami - Cartagena, Colombia - Colon, Panama - Panama Canal - Puerto Limon - Roatan, Bay Islands - Harvest Caye, Belize - Costa Maya - Miami

01 6523009
Eastern Caribbean from Boston

Norwegian Cruise Line: Norwegian Dawn

9th Nov 2018, 9 nts, departing: Cruise Only

Visiting: Boston, USA - St. Thomas (US Virgin Islands) - Philipsburg, St Maarten - St. Kitts - St John's, Antigua - Tortola - San Juan

01 6523009
Western Caribbean

Royal Caribbean International: Oasis of the Seas

11th Nov 2018, 7 nts, departing: Cruise Only

Visiting: Port Canaveral - Labadee - Falmouth,Jamaica - Cozumel - Port Canaveral

01 6523009
Western Caribbean from New Orleans

Norwegian Cruise Line: Norwegian Gem

11th Nov 2018, 7 nts, departing: Cruise Only

Visiting: New Orleans - Cozumel - Roatan, Bay Islands - Harvest Caye, Belize - Costa Maya - New Orleans

01 6523009
Eastern Caribbean from Miami

Norwegian Cruise Line: Norwegian Getaway

11th Nov 2018, 7 nts, departing: Cruise Only

Visiting: Miami - St. Thomas (US Virgin Islands) - Tortola - Nassau - Miami

01 6523009
New Orleans To New Orleans

Norwegian Cruise Line: Norwegian Breakaway

11th Nov 2018, 7 nts, departing: Cruise Only

Visiting: New Orleans - Cozumel - Harvest Caye, Belize - Costa Maya - New Orleans

01 6523009
Western Caribbean from New Orleans

Norwegian Cruise Line: Norwegian Breakaway

11th Nov 2018, 7 nts, departing: Cruise Only

Visiting: New Orleans - Cozumel - Harvest Caye, Belize - Costa Maya - New Orleans

01 6523009
Cuba (Overnight) & Bahamas from Miami

Norwegian Cruise Line: Norwegian Sky

12th Nov 2018, 4 nts, departing: Cruise Only

Visiting: Miami - Havana - Great Stirrup Cay - Miami

01 6523009
Southern Caribbean from Miami

Norwegian Cruise Line: Norwegian Jade

16th Nov 2018, 10 nts, departing: Cruise Only

Visiting: Miami - San Juan - St. Thomas (US Virgin Islands) - Roseau - Bridgetown - Castries - Philipsburg, St Maarten - Miami

01 6523009
Western Caribbean from Orlando (Port Canaveral)

Norwegian Cruise Line: Norwegian Epic

17th Nov 2018, 7 nts, departing: Cruise Only

Visiting: Orlando - Great Stirrup Cay - Ocho Rios - George Town, Cayman Islands - Cozumel - Orlando

01 6523009
Eastern Caribbean

Royal Caribbean International: Oasis of the Seas

18th Nov 2018, 7 nts, departing: Cruise Only

Visiting: Port Canaveral - Nassau - Charlotte Amalie - Philipsburg, St Maarten - Port Canaveral

01 6523009
Western Caribbean from New Orleans

Norwegian Cruise Line: Norwegian Gem

18th Nov 2018, 7 nts, departing: Cruise Only

Visiting: New Orleans - Cozumel - Roatan, Bay Islands - Harvest Caye, Belize - Costa Maya - New Orleans

01 6523009
Western Caribbean from Miami

Norwegian Cruise Line: Norwegian Getaway

18th Nov 2018, 7 nts, departing: Cruise Only

Visiting: Miami - Roatan, Bay Islands - Harvest Caye, Belize - Costa Maya - Cozumel - Miami

01 6523009
Southern Caribbean from San Juan

Norwegian Cruise Line: Norwegian Dawn

18th Nov 2018, 7 nts, departing: Cruise Only

Visiting: San Juan - Bridgetown - Fort de France - St. Kitts - Philipsburg, St Maarten - St. Thomas (US Virgin Islands) - San Juan

01 6523009
Western Caribbean from New Orleans

Norwegian Cruise Line: Norwegian Breakaway

18th Nov 2018, 7 nts, departing: Cruise Only

Visiting: New Orleans - Cozumel - Belize - Harvest Caye, Belize - Costa Maya - New Orleans

01 6523009
New Orleans To New Orleans

Norwegian Cruise Line: Norwegian Breakaway

18th Nov 2018, 7 nts, departing: Cruise Only

Visiting: New Orleans - Cozumel - Belize - Harvest Caye, Belize - Costa Maya - New Orleans

01 6523009
Western Caribbean

Royal Caribbean International: Oasis of the Seas

25th Nov 2018, 7 nts, departing: Cruise Only

Visiting: Port Canaveral - Labadee - Falmouth,Jamaica - Cozumel - Port Canaveral

01 6523009