Alaskan Cruise Special Offers
Here at Cruise Paradise we offer an extensive range of discount cruise special offers for Alaskan cruise holidays from Ireland.
Our selection of Alaskan
cruise special offers
is updated on a regular basis, so don't forget to check back on this page regularly so that you can find the discount cruise holiday that you've always wanted!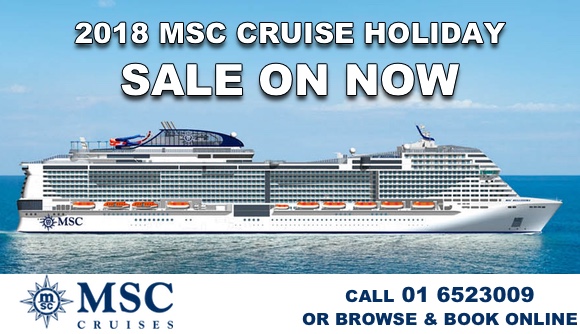 2018 NEW YEAR MEGA MSC CRUISE SALE
ALL MSC CRUISE HOLIDAYS DISCOUNTED
The Best Mediterranean and Caribbean Cruise Holidays are MSC Cruise Holidays! Take advantage of great savings across all MSC Cruises setting sale in 2018. Browse now, and don't miss out! View online cruise holiday offers here, or call: 01 6523009 to book.
---
Alaska Inside Passage

Princess Cruises: Island Princess

2nd May 2018, 7 nts, departing: Cruise Only

Visiting: Vancouver - Juneau - Skagway - Ketchikan - Vancouver

01 6523009
Inside Passage (with Glacier Bay National Park)

Princess Cruises: Ruby Princess

5th May 2018, 7 nts, departing: Cruise Only

Visiting: Seattle - Juneau - Skagway - Ketchikan - Victoria, British Colombia - Seattle

01 6523009
Inside Passage (Roundtrip San Francisco)

Princess Cruises: Grand Princess

6th May 2018, 10 nts, departing: Cruise Only

Visiting: San Francisco - Juneau - Skagway - Ketchikan - Victoria, British Colombia - San Francisco

01 6523009
Alaska Southern Glacier Cruise

Celebrity Cruises: Celebrity Millennium

1st Jun 2018, 7 nts, departing: Cruise Only

Visiting: Seward - Hubbard Glacier - Juneau - Skagway - Icy Strait - Ketchikan - Vancouver

01 6523009
Alaska Tracy Arm Fjord

Celebrity Cruises: Celebrity Solstice

1st Jun 2018, 7 nts, departing: Cruise Only

Visiting: Seattle - Ketchikan - Tracy Arm Fjord - Juneau - Skagway - Victoria, British Colombia - Seattle

01 6523009
Voyage of the Glaciers (Northbound)

Princess Cruises: Golden Princess

2nd Jun 2018, 7 nts, departing: Cruise Only

Visiting: Vancouver - Ketchikan - Juneau - Skagway - Whittier

01 6523009
Inside Passage with Tracy Arm Fjord

Princess Cruises: Emerald Princess

3rd Jun 2018, 7 nts, departing: Cruise Only

Visiting: Seattle - Ketchikan - Juneau - Skagway - Victoria, British Colombia - Seattle

01 6523009
Alaska Hubbard Glacier

Celebrity Cruises: Celebrity Infinity

3rd Jun 2018, 7 nts, departing: Cruise Only

Visiting: Vancouver - Icy Strait - Hubbard Glacier - Juneau - Ketchikan - Vancouver

01 6523009
Inside Passage (Roundtrip San Francisco)

Princess Cruises: Grand Princess

5th Jun 2018, 10 nts, departing: Cruise Only

Visiting: San Francisco - Juneau - Skagway - Sitka - Victoria, British Colombia - San Francisco

01 6523009
Alaska Tracy Arm Fjord

Celebrity Cruises: Celebrity Solstice

8th Jun 2018, 7 nts, departing: Cruise Only

Visiting: Seattle - Ketchikan - Tracy Arm Fjord - Juneau - Skagway - Victoria, British Colombia - Seattle

01 6523009
Alaska Northern Glacier Cruise

Celebrity Cruises: Celebrity Millennium

8th Jun 2018, 7 nts, departing: Cruise Only

Visiting: Vancouver - Ketchikan - Icy Strait - Juneau - Skagway - Hubbard Glacier - Seward

01 6523009
Alaska Hubbard Glacier

Celebrity Cruises: Celebrity Infinity

10th Jun 2018, 7 nts, departing: Cruise Only

Visiting: Vancouver - Sitka - Hubbard Glacier - Juneau - Ketchikan - Vancouver

01 6523009
Inside Passage (Roundtrip San Francisco)

Princess Cruises: Grand Princess

15th Jun 2018, 10 nts, departing: Cruise Only

Visiting: San Francisco - Ketchikan - Haines, Alaska - Juneau - Victoria, British Colombia - San Francisco

01 6523009
Alaska Southern Glacier Cruise

Celebrity Cruises: Celebrity Millennium

15th Jun 2018, 7 nts, departing: Cruise Only

Visiting: Seward - Hubbard Glacier - Juneau - Skagway - Icy Strait - Ketchikan - Vancouver

01 6523009
Alaska Tracy Arm Fjord

Celebrity Cruises: Celebrity Solstice

15th Jun 2018, 7 nts, departing: Cruise Only

Visiting: Seattle - Ketchikan - Tracy Arm Fjord - Juneau - Skagway - Victoria, British Colombia - Seattle

01 6523009
Inside Passage with Tracy Arm Fjord

Princess Cruises: Emerald Princess

17th Jun 2018, 7 nts, departing: Cruise Only

Visiting: Seattle - Ketchikan - Juneau - Skagway - Victoria, British Colombia - Seattle

01 6523009
Alaska Hubbard Glacier

Celebrity Cruises: Celebrity Infinity

17th Jun 2018, 7 nts, departing: Cruise Only

Visiting: Vancouver - Icy Strait - Hubbard Glacier - Juneau - Ketchikan - Vancouver

01 6523009
Voyage of the Glaciers (Southbound)

Princess Cruises: Island Princess

20th Jun 2018, 7 nts, departing: Cruise Only

Visiting: Whittier - Skagway - Juneau - Ketchikan - Vancouver

01 6523009
Alaska Tracy Arm Fjord

Celebrity Cruises: Celebrity Solstice

22nd Jun 2018, 7 nts, departing: Cruise Only

Visiting: Seattle - Ketchikan - Tracy Arm Fjord - Juneau - Skagway - Victoria, British Colombia - Seattle

01 6523009
Alaska Northern Glacier Cruise

Celebrity Cruises: Celebrity Millennium

22nd Jun 2018, 7 nts, departing: Cruise Only

Visiting: Vancouver - Ketchikan - Icy Strait - Juneau - Skagway - Hubbard Glacier - Seward

01 6523009
Alaska Hubbard Glacier

Celebrity Cruises: Celebrity Infinity

24th Jun 2018, 7 nts, departing: Cruise Only

Visiting: Vancouver - Sitka - Hubbard Glacier - Juneau - Ketchikan - Vancouver

01 6523009
Alaska Southern Glacier Cruise

Celebrity Cruises: Celebrity Millennium

29th Jun 2018, 7 nts, departing: Cruise Only

Visiting: Seward - Hubbard Glacier - Juneau - Skagway - Icy Strait - Ketchikan - Vancouver

01 6523009
Alaska Tracy Arm Fjord

Celebrity Cruises: Celebrity Solstice

29th Jun 2018, 7 nts, departing: Cruise Only

Visiting: Seattle - Ketchikan - Tracy Arm Fjord - Juneau - Skagway - Victoria, British Colombia - Seattle

01 6523009